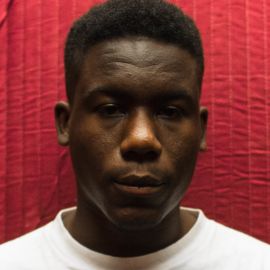 Skizzy Mars (born Myles Mills) is an MC based in Manhattan who specializes in jocular, melodic, slightly left-of-center rap. Born and raised in Harlem, he got into modern rock bands, later immersed himself in the output of rappers like Kid Cudi and Kanye West, and traced back to A Tribe Called Quest. While still a teenager, he uploaded "Douchebag," a track that caught some attention and prompted him to expose more material that attracted a publishing deal. A couple mixtapes, Phases and Pace, followed respectively in 2013 and 2014.
The Red Balloon Project, a seven-track EP supported by major distribution from WEA, was released in February 2015 and debuted at number 35 on the Billboard 200 chart. Alone Together, Mills' proper debut album, followed in April 2016 with appearances from JoJo and Rome Fortune, among others. It landed at number 50.
Shortly after Skizzy was featured on his first major song titled "All I Could Do" by G-Eazy and Devon Baldwin. Skizzy said he got his rap name from a nickname, Skills Mills, given to him by his English teacher. He failed most of his classes in high school, except English, which he excelled at. After only 10 weeks at Union College he dropped out to chase a career as a rapper. Skizzy Mars has opened for G-Eazy on his Must be Nice tour, and for Logic on his 2013 Welcome to Forever tour. In 2016, Skizzy Mars went on his first headlining cross country tour called the Alone Together tour with fellow Rapper P-Lo.