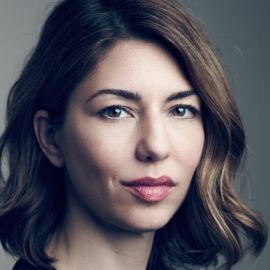 Coppola is the daughter of director Francis Ford Coppola, sister of Roman Coppola, niece of Talia Shire and a cousin of Nicolas Cage, Jason Schwartzman and Robert Schwartzman.
She attended Mills College and the California Institute of the Arts.
Coppola's career in film began early, as she appeared as an infant or a child extra in several of her father's films. The best known of these anonymous roles is her appearance in The Godfather as the baby boy in the christening scene. She is also featured in Coppola's film The Outsider's in the scene where Matt Dillon, C. Thomas Howell, and Ralph Macchio are talking at the drive in before the famous burning church scene.
Anna was the first film in which she performed that was not associated with her father. However, her best known role is Mary Corleone in The Godfather Part III, a role into which she was cast at the last minute after Winona Ryder fell ill. This heavily criticized performance (for which she received the award of "Worst New Star" in the 1990 Golden Raspberry Awards) effectively ended her acting career, except for an appearance in the independent film Inside Monkey Zetterland, and a bit part in Star Wars Episode I: The Phantom Menace. She played a gymnast in the video for "Elektrobank" by the Chemical Brothers, directed by her then-husband Spike Jonze.
Coppola is now better known as a successful film director. Her first three films were Lick the Star, The Virgin Suicides and Lost in Translation. Lost in Translation won the Academy Award for original screenplay and three Golden Globe Awards including Best Picture. With her Oscar nomination for Best Director (for Lost in Translation), Coppola became only the third woman (and the first American woman) to receive an Oscar nomination for film direction.
Coppola's forthcoming film is the biopic Marie-Antoinette, adapted from the biography by British historian Lady Antonia Fraser. Kirsten Dunst plays the title role and Coppola cousin Jason Schwartzman plays Antoinette's husband, King Louis XVI. It debuted at the Cannes Film Festival, where it was booed and given a chilly reception by critics.
Her fourth film was Somewhere. The movie was filmed at Chateau Marmont. The plot focuses on a "bad boy" actor portrayed by Stephen Dorff who is forced to reevaluate his life when his daughter, played by Elle Fanning, arrives unexpectedly.
Coppola's next film The Bling Ring was based on actual events centered around the Bling Ring, a group of California teenagers who burgled the homes of several celebrities over 2008 and 2009, stealing around $3 million in cash and belongings. Emma Watson, Taissa Farmiga, Leslie Mann, Israel Broussard, Katie Chang, and Claire Julien starred in the film.
Coppola directed The Beguiled, a remake of the 1971 Western film of the same name, starring Nicole Kidman, Elle Fanning and Kirsten Dunst; it is due for release in 2017.
Videos
---
Books
---
Related Speakers View all
---
Kathryn Bigelow

First Woman to Win an Academy Award for Best Directo...

Ava DuVernay

Academy Award-Nominated Director & Producer Known fo...

Martin Scorsese

Academy Award-winning Filmmaker; Known for "Goodfell...

Aubrey Plaza

Actress, Comedian & Producer

Oprah Winfrey

CEO of Oprah Winfrey Network, Presidential Medal of ...

Gina Rodriguez

Award-Winning Actress, Producer, Director, Model & H...

Viola Davis

First Black Actor to Receive an Emmy, Tony & Academy...

Lena Dunham

Writer, Director, Actor & Producer Best Known for HB...

Scarlett Johansson

Award-Winning Actress & Singer; Known for Portraying...

Al Pacino

Award-Winning Actor

Patty Jenkins

Film Director & Screenwriter Known for Directing "Wo...

Will Smith

Actor & Producer Known for "Fresh Prince of Bel-Air,...

Greta Gerwig

Award-Winning Actress & Director; Best Known for "La...

Reese Witherspoon

Academy Award-Winning Actress & Producer, Founder of...

Olivia Wilde

Actress, Screenwriter, Director, Producer & Activist

Julie Taymor

Film, Opera, & Academy Award-Nominated Theater Director

Rosie Perez

Actress, Choreographer, Activist & Former Co-Host of...

Spike Lee

Academy Award-Winning Writer, Producer, Actor & Dire...

Julie Dash

Director & Writer Known for "Daughters of the Dust";...

Alfonso Cuarón

Academy Award-Winning Mexican Film Director, Screenw...
More like Sofia