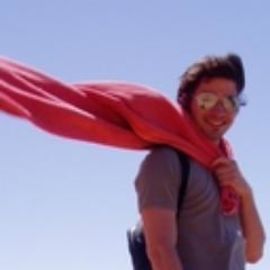 Solomon Hykes
Hacker & entrepreneur. We are automating the cloud.
The new Web revolution is not about fancy widgets or social graphs. It's about mass innovation.
The underlying technology and economics are in place for a radical change in the way ideas become businesses. The cost of experimentation is dropping. Just like micro-payments created entire new streams of wealth by making it cheaper to send a penny, cloud computing is creating new streams of innovation by making it cheaper to implement and monetize an idea.
As the pace of innovation accelerates, so will the pressure to focus entirely on one's core competitive advantage - relying on a collection of specialized cloud services for everything else.
Mass innovation leads to mass IT outsourcing - and that is our business.
Videos
---
Related Speakers View all
---
Will Cohen

Performance Tools Engineer at Red Hat

Vincent Batts

Mindfulness; geekiness; polyglotness; open-sourceness

Vijay Bellur

Co-maintainer for the GlusterFS Project, Red Hat

Udo Dr. Seidel

Section Manager Linux Strategy at Amadeus Data Proce...

Tom Bujok

java developer, open source software enthusiast

Tim Fox

SENIOR PRINCIPAL SOFTWARE ENGINEER at RED HAT JBOSS ...

Thomas Heute

Senior Manager at Red Hat

TheSteve0

Spatial (and now PaaS) Geek with some Ecology toppin...

Steve O'Keefe

Product Line Manager at Red Hat

Stan Lewis

Principal Software Engineer at Red Hat

Scott Stark

Mr. Scott Stark, Ph.D. co-founded JBoss, Inc in 2001...

Scott Cranton

Big Data Strategy @ Red Hat

Sanne Grinovero

Search, Hibernate & Infinispan @ JBoss by Red Hat. P...

Ryan King

Global Program Manager - Red Hat Innovate

Robb Greathouse

Chief Evangelist at JBoss, Division of Red Hat

Rob Davies

Technical director for Fuse Engineering at Red Hat

Rich Sharples

Product Management Director for Middleware at Red Ha...

Ray Ploski

Director of Developer Strategy for JBoss.

Pete Muir

mountaineering, music loving programmer in Edinburgh...

Paul Robinson

Web Service Transactions Lead at JBoss by Red Hat
More like Solomon