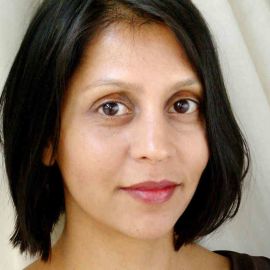 Sonia Shah
Investigative Journalist and Author of Critically Acclaimed 2010 Book, "The Fever: How Malaria Has Ruled Humankind for 500,000 Years"
Sonia Shah is an investigative journalist and author of critically acclaimed and prize-winning books on science, human rights, and international politics.
Her latest book, The Fever: How Malaria Has Ruled Humankind for 500,000 Years (Sarah Crichton Books/ Farrar, Straus & Giroux, July 2010), described by the New York Times as "tour-de-force history" and by TIME magazine as "rollicking," is based on five years of original reportage in Cameroon, Malawi, Panama and elsewhere.
It was long-listed for the 2010 Royal Society Winton Prize for Science Books.
Her 2006 drug industry exposé, The Body Hunters: Testing New Drugs on the World's Poorest Patients (New Press), winner of the Prix Prescrire award, has been hailed by Publishers Weekly as "a tautly argued study…a trenchant exposé…meticulously researched and packed with documentary evidence," and as "important [and] powerful" by The New England Journal of Medicine.
The book, which international bestselling novelist and The Constant Gardener author John Le Carré called "an act of courage," has enjoyed wide international distribution, including French, Japanese, and Italian editions.Sonia Shah © Johnny Martyr
Her 2004 book, Crude: The Story of Oil (Seven Stories), was described as "brilliant" and "beautifully written" by The Guardian and "required reading" by The Nation, and has been widely translated, from Japanese, Greek, and Italian to Bahasa Indonesia.
Her "raw and powerful" 1997 collection, Dragon Ladies: Asian American Feminists Breathe Fire, still in print after more than 15 years, continues to be required reading at colleges and universities across the country.
A former writing fellow of the Nation Institute and the Puffin Foundation, Shah has been featured on current affairs shows around the United States, on outlets such as NPR as well as the BBC and Australia's Radio National.
A frequent keynote speaker, Shah has lectured at universities and colleges across the country, including Columbia's Earth Institute, MIT, Harvard, Brown, Georgetown and elsewhere.
Her writing on science, global health, and politics have appeared in a range of publications from Wall Street Journal, The New York Times, and Le Monde Diplomatique to Scientific American and Foreign Affairs, and has been supported by The Nation Investigative Fund and the Pulitzer Center for Crisis Reporting.
Her television appearances include A&E and the BBC, and she's consulted on many documentary film projects, from the ABC to Channel 4 in the UK.
Shah was born in 1969 in New York City to Indian immigrants. Growing up, she shuttled between the northeastern United States where her parents practiced medicine and Mumbai and Bangalore, India, where her extended working-class family lived, developing a life-long interest in inequality between and within societies.
She holds a BA in journalism, philosophy, and neuroscience from Oberlin College, and lives with molecular ecologist Mark Bulmer and their two sons Zakir and Kush.
Related Speakers View all
---
Dr. Scilla Elworthy

Founder of the Oxford Research Group

Margaret Lowman

Director of Global Initiatives/Senior Scientist of P...

Stephanie Coontz

Teaches history and family studies at The Evergreen ...

Neil deGrasse Tyson

Renowned Astrophysicist & Director of Hayden Planeta...

Emily Hunter

A force behind youth environmental activism, journal...

Jeffrey Kluger

Journalist; Editor and Writer at TIME MAGAZINE. Auth...

Gail Dines

Scholar, activist, and social critic who takes an un...

David Quammen

Science journalist and author

Jessica Valenti

Co-Founder & Editor, Feministing.com

Michael Mann

Professor of Atmospheric Science at Penn State

Leslie Dodson

Reporter & Videographer Covering International Finan...

Josh Klein

Hacker and Author of "Hacking Work"

Susan Douglas

Smart, witty, prize-winning author, columnist, femin...

Sandra Steingraber

Acclaimed Ecologist, Author, Survivor

Arianna Huffington

Former President & Editor-in-Chief of The Huffington...

Dan Ariely

Behavioral Economist, Professor at Duke University, ...

Sonia Nassery Cole

Filmmaker and Philanthropist

Jianying Zha

Journalist, author and expert on Chinese culture, po...

Urvashi Vaid

LGBT leader, attorney, community organizer for over ...

Rinku Sen

President and Executive Director of the Applied Rese...
More like Sonia