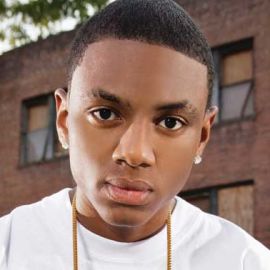 DeAndre Cortez Way, better known by his stage name Soulja Boy Tell 'Em, or simply Soulja Boy, is an American rapper and record producer.
In March 2007, he recorded "Crank That" and released his first independent album Unsigned & Still Major: Da Album Before da Album, followed by a low-budget video filmed demonstrating the "Crank That" dance.
By the end of May 2007, "Crank That (Soulja Boy)" received its first airplay and Way met with Mr. Collipark to sign a deal with Interscope Records. The song appeared on the Emmy-award winning HBO series "Entourage," and by September 1, it topped the Billboard Hot 100 and Hot RingMasters charts.
It was a No. 1 hit in the United States for seven non-consecutive weeks starting in September 2007. This makes him the youngest person (16 years, 10 months) to write, perform, and produce a No. 1 song on the Hot 100, a title that was previously held by Deborah Gibson (17 years, 11 months) for almost two decades. Way's major label debut album Souljaboytellem.com, was released in the United States on October 2, 2007 peaking at No. 4 on both the Billboard 200 and Top R&B/Hip-Hop Albums charts.
For the 50th Grammy Awards, Way was nominated for a Grammy Award for Best Rap Song for "Crank That (Soulja Boy)."
The follow-up to Souljaboytellem.com, iSouljaBoyTellem, was released on December 16, 2008. "Kiss Me Thru the Phone" peaked at No. 3 on the Hot 100 and No. 1 on the Hot Rap Tracks charts.
The official lead single from the album The DeAndre Way, "Pretty Boy Swag", was released in June 2010. The single has reached No. 34 on the Billboard Hot 100, No. 6 on the Billboard Hot R&B/Hip-Hop Songs chart and No. 5 on the Billboard Rap Songs chart.
Videos
---
Related Speakers View all
---
Waka Flocka Flame

Rapper; Known for "No Hands"

Gucci Mane

Rapper & Pioneer of Trap Music; Founder of 1017 Records

Rich Homie Quan

Rising Atlanta Rapper; Known for his Single "Type of...

T-Pain

Grammy Award-Winning Rapper, Singer, Songwriter & Re...

Killer Mike

Hip-Hop Artist & Activist Focused on Social Inequali...

Quasimoto (Madlib)

Hip Hop DJ, rapper, multi-instrumentalist, producer;...

Wyclef Jean

Grammy Award Winning Musician, Formerly in Band "The...

J. Cole

Hip-Hop Recording Artist & Record Producer Known for...

Big Sean

Rapper & Hip-Hop Artist Known for "My Last" and "Con...

Nelly

Rapper, Entrepreneur & Investor

Kendrick Lamar

Grammy & Pulitzer Award-Winning Hip-Hop Recording Ar...

Flying Lotus

Experimental Multi-Genre Music Producer, Electronic ...

B.o.B. (Bobby Ray)

Hip Hop Recording Artist, Singer, Songwriter & Recor...

Wale

Rapper & Producer

Shwayze

Rapper

Ying Yang Twins

Atlanta-Based Hip Hop Duo; Known for "Wait (The Whis...

Trick Daddy

Rapper & Producer

Gorilla Zoe

American rapper. He is a former member of rap group ...

Twista

Chopper-Style Rapper

Plies

Rapper; founder of Big Gates Records.
More like Soulja