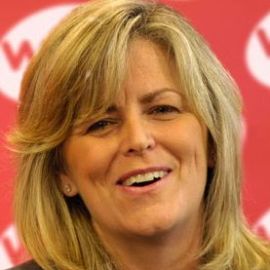 Stacey Allaster
Chief Executive of Professional Tennis with the USTA; Former CEO of the Women's Tennis Association & Equal Pay Advocate
A consummate tennis professional recently named by Forbes magazine as one of the "Most Powerful Women in Sports," Stacey Allaster has held virtually every position imaginable in the world of tennis: from a junior to a collegiate player; to Tournament Director in Toronto; to a VP of Tennis Canada; to President, then Chairman and CEO of the world's leading professional sport for women, the WTA; and now she serves as Chief Executive, Professional Tennis, with the USTA.
With the USTA, Allaster is tasked with setting the strategic vision for the USTA's pro tennis division, with oversight that includes the US Open, the Emirates Airline US Open Series and the Western & Southern Open, among others. In addition, she works closely with the USTA's board of directors and the current USTA pro tennis staff to ensure the continued viability of professional tennis in the United States.
Allaster's tenure as Chairman and CEO began in July 2009 and was marked by her focus on maximizing the fan experience through a series of on-court and digital innovations; securing a record number of new sponsors; ensuring the financial success of the sport, and enhancing the health and well-being of the athletes. During her tenure, Allaster generated an estimated $1 billion for the organization and was the driving force in the WTA's expansion into Asia, among her many accomplishments. Allaster stepped down from this role in 2015.
With a focus on fan enjoyment and athlete health, Allaster played an integral role in the development and adoption of the Roadmap, the WTA's long term strategic plan aimed at streamlining the calendar in order to enhance the overall health and well-being of the athletes and deliver top players on a more consistent basis to tournaments and fans. She also spearheaded such innovative programs as on-court coaching, electronic line calling, and a revised doubles scoring format, all aimed at enhancing the fan experience and taking women's tennis to new heights.
An advocate for women, Allaster was instrumental as the then-President of the WTA in securing equal prize money for women tennis players at all four Grand Slams, which was finally completed in 2007 when Wimbledon and Roland Garros committed to offering equal pay to male and female athletes.
For her efforts, Allaster has been recognized as the Sports Media Canada Executive of the Year, the WISE Woman of the Year, and a Sports Business Journal Gamechanger. In 2015, she was commended by the International Tennis Hall of Fame for her contributions to the sport.
Videos
---