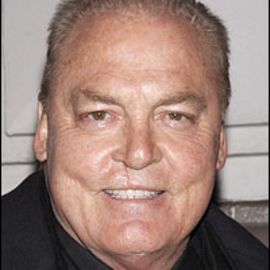 Stacy Keach, Sr., has been a successful actor, producer, writer and director for over fifty years. He currently plays Matt LeBlanc's father on the sitcom Man With a Plan. In 2015, Keach was inducted into the Theatre hall of Fame and in 2019 he was honored a star on The Hollywood Walk of Fame.
He created, produced and directed the legendary Tales of the Texas Rangers for NBC Radio in the early 1950s. The show still airs on KNX 1070 on Thursday nights. The Ranger Show was also included in the Smithsonian Archive Presentation of the most famous Radio Detective shows of the 20th Century. In the world of commercials, Stacy Sr. recently played the crotchety old chairman of the board for Psi.net after his success as the grouchy Mercury patriarch, and was seen as Clarence Birdseye for over five years. Active as a Rotarian and a member of the Pacific Pioneer Broadcasters, Stacy Sr. gives back to the community, is a loving husband, father and grandfather, and serves as a great role model for both Stacy Jr. and his brother, James.
In addition to his motion picture and television accomplishments, Stacy is one of Americas most acknowledged Shakespearean actors, also celebrated in England where the Bard is in the blood. A New York Times review dubbed him The Finest American classical actor since John Barrymore. He's received a Best Actor Golden Globe, been nominated for Emmy and Tony awards, won three Obies, three Vernon Rice awards, the Helen Hayes Award, and the Prestigious Millineum Recognition Award for his outstanding contribution to the classical theatre. Understandably, his Shakespearean readings (sold on his popular website (www.StacyKeach.com) are among the nations best-selling classical CDs.
He started acting in theatre at an early age. He came to prominence on stage in the 1960s, and entered films in 1968, landing a solid supporting role in The Heart is a Lonely Hunter. He appeared in many counterculture-driven films of the early 1970s, including End of the Road, Brewster McCloud, Doc and John Hustons Fat City, among them. He contributed a funny cameo to Hustons The Life and Times of Judge Roy Bean. Keach also notably portrayed an LA cop inThe New Centurions. Another of his acclaimed film characterizations was the title role in John Osbornes Luther. He was chilling as an easy-going homicidal sheriff in The Killer Inside Me, a stunning adaptation of Jim Thompsons novel that went virtually unnoticed until its later release on video. He became a youth audience icon with his comedic portrayal in both Cheech and Chongs Up in Smoke and Nice Dreams. Other top portrayals occurred in The Traveling Executioner, That Championship Season, The Ninth Configuration, Escape From LA, and American History X.