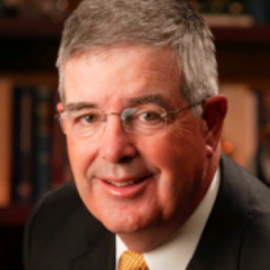 Stan Hupfeld
President and Chief Executive Officer of the Oklahoma Healthcare Corporation
In July 1, 1995, Stanley Hupfeld became President and Chief Executive Officer of INTEGRIS Health, an integrated delivery system composed of INTEGRIS Baptist Medical Center, INTEGRIS Southwest Medical Center, and INTEGRIS Rural Health. The System comprises 13 hospitals, all in Oklahoma. Annual net revenues of the System are over $l.3 billion with 1600 beds. Hupfeld was President and Chief Executive Officer of Oklahoma Healthcare Corporation and Baptist Medical Center of Oklahoma from March 1987 to that time. Effective January 1, 2010 he transitioned to Chairman of the INTEGRIS Family of Foundations. Mr. Hupfeld also served as President of All Saints Healthcare in Fort Worth, Texas from 1977 to 1987.
Mr. Hupfeld is a former member of the Board of Directors of the American Hospital Association and has served as Chairman of the Regional Policy Board (7). He has served as a Health Care Systems delegate and alternate delegate and Metro section alternate delegate on the Section for Metropolitan Hospitals Governing Council. He has served as Chairman of the Coalition to Project America's Health Care Board and as fund-raising Co-Chair.He has served as the Campaign Chairman and Chairman of the Board of the United Way in both Fort Worth and Oklahoma City. He serves on the Board of Directors of the Oklahoma City Chamber of Commerce, and has served as Chairman of the Board in 1994; Chairman-Elect in 1993; and Vice Chairman from 1990 through 1992. He is a trustee on numerous other Boards and commissions in Oklahoma.
Mr. Hupfeld was a member of the 1963 National Championship Football Team - the University of Texas in Austin.
He has spoken and been published widely, and was honored as CEO Marketer of the Year by the American Society for Healthcare Planning and Marketing, and as Executive of the Year by the Sales & Marketing Executives International. He is the 2003 recipient of the W. Cleveland Rodgers Distinguished Service Award for outstanding service to the health care industry. He was honored in 2007 with one of the American Hospital Association's highest honors, The Award of Honor, and is also the recipient of the Friends of Nursing Award from the Oklahoma Nurses Association.
As the driving force of the nation's first hospital-sponsored charter school, Hupfeld was honored in 2009 when the INTEGRIS Health Board of Directors voted to rename the school The Stanley Hupfeld Academy at Western Village. He currently writes a healthcare column for a local business daily, The Journal Record.
He is a native of Dallas, Texas, with an undergraduate degree in History from the University of Texas in Austin, and a Masters of Science in Healthcare Administration from Trinity University. He has been honored by Trinity University as an outstanding graduate. He served as an Administrative Resident at Providence Hospital in El Paso, Texas and subsequently was the first lay-President of St. Joseph Hospital of El Paso, Texas (1973 1977).
Videos
---
Speech Topics
---
Hospital/Physician Relations
Related Speakers View all
---
René Lerer, M.D.

President of GuideWell

Eric Lefkofsky

Founder and CEO at Tempus, Inc.; Co-founder of Light...

Marc Harrison

President & CEO of Intermountain Healthcare

Jonathan Bush

Co-Founder, President, Chairman & CEO of athenahealth

Troyen A. Brennan

Executive Vice President & Chief Medical Officer of ...

Andrew Thompson

Co-founder and CEO of Proteus Biomedical

Jack Shapiro

Jack M. Shapiro is an internationally known authorit...

Dr. Jeffrey Bauer

Health Futurist, Author & Medical Economist

Ian Morrison

Healthcare Futurist and Author

Daniel Kraft, M.D.

Physician-Scientist; Founder of Exponential Medicine...

Vinod Khosla

Co-founder of Daisy Systems; Founding CEO of Sun Mic...

Mark Ganz

President & Chief Executive Officer of Cambia Health...

Joe Flower

Healthcare Futurist, Author & Founding Member of Int...

David Agus

Professor of Medicine and Engineering at the Univers...

Bruce Broussard

President & CEO at Humana

Glen Tullman

Executive Chairman & Founder of Livongo Health

Neil de Crescenzo

President & Chief Executive Officer of Change Health...

Tal Golesworthy

Tal Golesworthy is an engineer and entrepreneur, wor...

Bart Knols

Scientist, Author, Entrepreneur

Chris Seper

Digital Media Entrepreneur, Founded MedCity Media, P...
More like Stan