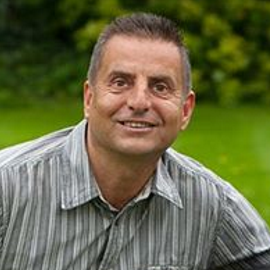 Stephen Cunningham
The World's Fastest Blind Man & Disability Advocate
Steve has always loved sports and fast cars, boats and planes. A budding footballer, he dreamed of the day that he would captain his beloved Aston Villa, and then England at the World Cup.
But his world soon grew cloudy, and then disappeared. Confused and very lonely, Steve found himself totally, and irreversibly blind. He was 12 years old.
But Steve is a remarkable person. Offered the chance of selling matches on street corners, he took another path, and has spent his life breaking every barrier that stood in his way.
A world junior sprinter, Steve went on to play for the England Blind Cricket team. He trained with Aston Villa, and then fulfilled his lifelong ambition by leading his English blind football team to the World Cup.
Steve then set himself an audacious challenge: to become the fastest blind man on the planet. He powered to 2 world speed records on land and sea, then took to the air and found international media fame as the world's first blind pilot. Steve does have one handicap in life: golf …he plays off 14.
As an international speaker, Steve inspires & motivates businesses, organisations and the education sector both nationally and internationally with audiences of all ages. His deeply-moving story takes audiences on his journey from despair to success. His core message is that anyone can break barriers; that the path to true success is in your mind, and not your ability or environment.
A witty, humorous, entertaining and painfully-honest speaker, he makes people laugh and cry. A genuine man, Steve sees no disability in his total lack of sight, but takes pride in sharing true vision, which many sighted people fail to recognise.
Working with business, individuals and schools
KPMG, Virgin, Chrysler, Michelin, Royal Bank of Scotland, Lloyds TSB and EDF Energy plus many more have all paid testimony to his presentations, his passion, enterprise and conviction.
Leading and inspiring change within business and individuals to fulfilled their potential and turn their goals in to success and reality.
Feedback from the likes of Orange, Virgin, Bombardier, Sainsbury's, Rolls Royce, Sony, Pfizer, and Iris Software is unanimous that Steve has made an overwhelming, instant and long-lasting positive change in the audiences. He has changed the mindset of thousands through more intimate events, such as chamber events, international trade and business conferences and award ceremonies.
He works also with leading sporting bodies, such as the ERU, the ECB, Wasps RFC Leicester Tigers, The England Football and cricket team, as well as many other Premiership and League Football Teams to inspire real change and teamwork.
Individuals, such as Sir Clive Woodward, David Beckham, Jim Davidson, Bob Monkhouse, Stephen Fry and the late Sir Bobby Robson have all offered their glowing testimony.
Steve also travels to schools across the UK to help children of all ages understand disability and the importance of a positive mental attitude, just at the time that their minds are developing.
Steve remains a passionate Fundraiser for Visually Impaired charities across the country, and the proud Father of his 2 adorable daughters.
Videos
---
Speech Topics
---
Inspiration, Diversity, Overcoming Adversity, Breaking barriers
Related Speakers View all
---
Joan Brock

Inspirational Speaker & Author of "More Than Meets t...

Dana LaMon

Blind Retired Judge for the California Dept. of Soci...

Darrell Robinson

Attorney & Legal Analyst

Sara Minkara

Founder & CEO of Empowerment Through Integration

Diane Schuur

Grammy-Award Winning Vocalist, Jazz Pianist

Jessika Rovell

Attorney, Naval Intelligence Officer, and Sexual Vio...

Brad Snyder

Two-Time Paralympic Gold Medalist Swimmer & Navy Vet...

Mark Pollock

Explorer, Innovator, & Collaboration Catalyst

Kristie Kennedy

Women's Worth and Wellness Expert

Lauren Potter

Actress Best Known for "Glee;" Special Needs Advocate

Carey Lohrenz

First Female F-14 Fighter Pilot in the U.S. Navy, T...

Damian Marley

Reggae Artist; Son of Bob Marley

Jay Blake

Founder & President, Follow A Dream; Only Totally Bl...

Rudy Ruettiger

Motivational Speaker & Former Football Player; Inspi...

J.R. Martinez

Actor, Best-Selling Author, Motivational Speaker, Ad...

Jason Lezak

Olympic Gold Medalist Swimmer; Tri-Captained 2008 Be...

Shoshana Johnson

First African American Woman POW in U.S. War History

Caitlyn Jenner

TV Personality, Olympic Gold Medalist & Iconic Trans...

Judge Glenda Hatchett

Former Juvenile Court Judge & Star of "Judge Hatchet...

Erin Gruwell

Inspirational Educator & Author of "The Freedom Writ...
More like Stephen