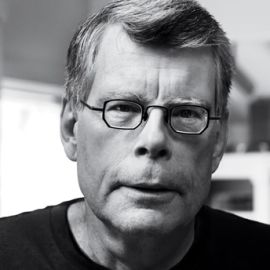 Author Stephen King was born on September 21, 1947, in Portland, Maine. King is recognized as one of the most famous and successful horror writers of all time. His parents split up when he was very young, and he and his brother David divided their time between Indiana and Connecticut for several years. King later moved back to Maine with his mother and brother. There he graduated from Lisbon Falls High School in 1966.
King stayed close to home for college, attending the University of Maine at Orono. There he wrote for the school's newspaper and served in its student government. King published his first short story while in college, which appeared in Startling Mystery Stories. After graduating with a degree in English in 1970, he tried to find a position as a teacher, but he had no luck at first. King took a job in a laundromat and continued to write stories in his spare time.
In 1973, King sold his first novel, "Carrie," the tale of a tormented teen who gets her revenge. The book became a huge success after it was published the following year, allowing him to devote himself to writing full time. It later adapted for the big screen with Sissy Spacek as the character. More popular novels soon followed, including "Salem's Lot," "The Shining," "The Stand," "Cujo" and "It." The Shining was made into a movie starring Jack Nicholson, and the film has become a classic horror thriller.
For much his career, King wrote novels and stories at a breakneck speed. He published several books per year for much of the 1980s and 1990s. As with his earlier works, his compelling and thrilling tales continued to be used as the basis of numerous feature and television films. Actress Kathy Bates and actor James Caan starred in the critically and commercially successful adaptation of Misery in 1990. Four years later, The Shawshank Redemption, based on one of his stories, became another smash hit.
King continues to produce fascinating works. He has worked in television, writing for "The Dead Zone" series (based on his own novel) and for Stephen King's "Kingdom Hospital" series among other projects. King remains one of the most popular writers working today. In 2011, he published "22/11/63," a novel involving time travel as part of an effort to stop the assassination of President John F. Kennedy. King has written "Joyland," a pulp-fiction style thriller, which was released in 2013. He released "Doctor Sleep," a story that explores a battle between good and evil.
His most recent novel, "Mr. Mercedes," won Best Mystery and Thriller of 2014 for the GoodReads Choice Awards.
King and his novelist wife divide their time between Florida and Maine.
Videos
---
Related Speakers View all
---
James Patterson

NY Times Best-Selling Author & Reading Champion

J.K. Rowling

Author of the "Harry Potter" Series

Nicholas Sparks

International Bestselling Novelist & Screenwriter, K...

John Green

New York Times Bestselling Author, Known for "The Fa...

Deepak Chopra

Co-Founder of The Chopra Center for Wellbeing

Lee Child

New York Times Bestselling Author, Best Known for th...

George R.R. Martin

Author of the "Game of Thrones" Series

Stephenie Meyer

Author of the Best-Selling "Twilight" Series

Jeffrey Kluger

Journalist; Editor and Writer at TIME MAGAZINE. Auth...

Sir Richard Branson

Businessman & Founder of Virgin Group

Nora Roberts

New York Times Best-Selling Author

Suzanne Collins

Author of "The Hunger Games" Trilogy

Dan Brown

Author of "The Da Vinci Code," "Angels & Demons," "T...

Steve Martin

Iconic Actor, Comedian, Author, Playwright & Musician

Bob Woodward

Legendary Pulitzer Prize-winning Journalist/Author a...

Michael Lewis

Best-Selling Author of "The Fifth Risk", "Moneyball"...

Michael J. Fox

Award-Winning Actor, Author, Producer & Advocate

Dr. Phil McGraw

"Dr. Phil" Host, NY Times Bestselling Author, Psycho...

David McCullough

Historian and Bestselling Author

Jay Leno

TV Late Night Show Host, Stand-Up Comedian & Best-S...
More like Stephen