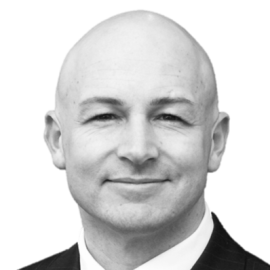 Stephen Lynch
Award-Winning Author, Strategic Plan Facilitator, President at RESULTS.com
Stephen Lynch is the author of the award-winning book; "Business Execution for RESULTS – A practical guide for leaders of small to mid-sized firms". The book was judged Winner in the "Management" category of the 2014 Small Business Book Awards in the USA. He's also had articles on strategy and management published in The Economist magazine. Fun fact: Stephen was Mr. New Zealand bodybuilding champion in 1993.
As a consultant, Stephen Lynch has personally consulted with hundreds of companies in the USA, Canada, Australia, and New Zealand, assisting them with strategic planning, business execution, and management best practices.
As a speaker, Stephen has delivered keynote presentations, webinars, and training workshops for tens of thousands of business leaders around the world.
As President of RESULTS.com, Stephen has obtained unique insights into the day to day operations of thousands of small-medium sized growth firms around the world. He has seen what really works (and what doesn't) in terms of strategic planning, business execution, goal setting, tracking performance, running effective meetings, holding employees accountable, and how to coach and improve poor performance.
To save you from spending several lifetimes trying to figure it all out for yourself, you can access powerful (and often counterintuitive) insights in his keynote presentations and client workshops.
Speech Topics
---
Strategic planning, business execution, goal setting, tracking performance, running effective meetings, holding employees accountable, and how to coach and improve poor performance
Modern Management - Managing people for better performance. What works in the real world (and what doesn't)
Many leaders struggle to hold their people accountable. Projects and tasks frequently fall overdue, or Metrics/KPIs are not reaching the desired performance standard. What should you do when this happens? How do you have those tough conversations with your team? What is the best way to motivate your people to perform to their potential? Topics covered include:
Get your strategy right first
The proven way to set goals that will really motivate your people
How to hold people accountable for performance
How to praise your people the right way
How to coach and manage a team member who is struggling
Why most incentive schemes don't work
Related Speakers View all
---
Aron Ain

CEO of Kronos Inc. & Author of Work Inspired

Shawn Harper

Former NFL Football Player, Successful Businessman &...

Haydn Shaw

Expert in Generational and Cross-functional Roles, C...

Lori Cheek

Architect; Entrepreneur; Founder & CEO of Cheekd

Candace Reese

The CEO Pundit: Empowerment Speaker, Inspirational C...

Rich Horwath

Rich Horwath is a national thought-leader on strateg...

Troy Hazard

Troy Hazard is the recent Global President of the el...

Brian Tracy

Authority on Human Potential & Personal Effectivenes...

Tim Sanders

Bestselling Author, Technology Pioneer, Expert on Co...

Dr. Kevin Freiberg

World-Wide Best-Selling Author, Speaker & Advisor

Dr. Jackie Freiberg

Corporate Culture & Leadership Strategist, Best-Sell...

Marcus Buckingham

Peak Performance Expert, Best-Selling Author, Resear...

Bradley R Staats

Professor at the UNC Kenan-Flagler Business School &...

Jason Selk

Director of Mental Training for the St. Louis Cardin...

Anthony McCarley

Successful Entrepreneur & Triple Crown Marathon Swimmer

Michael Angelo Costa

Decision-Making Expert & International Bestselling A...

Matthew Dixon

Chief Product & Research Officer at Tethr; Author; A...

George Hu

Chief Operating Officer at Twilio

Timothy Bartik

The author of "Investing in Kids," Timothy Bartik st...

Kathleen Wood

Entrepreneur, speaker, author and expert in leadersh...
More like Stephen