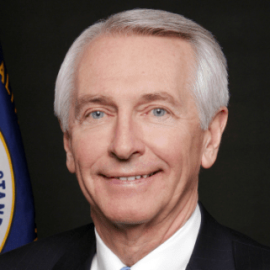 Steve Beshear
Former Democratic Governor of Kentucky
Steve Beshear served as the 61st Governor of Kentucky from 2007 to 2015. He also served as Attorney General from 1979 to 1983, Lieutenant Governor from 1983 to 1987, and was a member of the Kentucky House of Representatives from 1974 to 1979.
As a Democratic governor in a red state, he expanded the Medicaid program under the Affordable Care Act (ACA), and launched the Kentucky Health Benefit Exchange, benefiting over 500,000 Kentuckians. These actions together reduced the state's uninsured rate from over 20% to 8% and ensured that for the first time in history every Kentuckian would have access to affordable health insurance. He is the author of the book, People Over Politics, which is focused on how to make our broken system of government work again.
Speech Topics
---
Leadership
Leaders are made, not born. Being a leader is one part talent and nine parts hard work. Using examples from my personal and political life, I discuss the skills it takes to be a leader (including the willingness to take a risk and the willingness to lose), and how to turn those skills into actual results.
Healthcare
Where do we go from here? I discuss Kentucky's poor health history and how I implemented the ACA and expanded Medicaid in a red state. I then turn to what the future holds for healthcare in the United States.
Politics
Here I discuss how rank partisanship is destroying our federal political system. But it doesn't have to be this way. During my eight years as Kentucky's Democratic Governor, the Kentucky Senate was controlled by Republicans, while the House was controlled by Democrats. But most of the time, after elections were over, I was able to get both sides to remember that we were Kentuckians first and Democrats and Republicans second. Therefore, we accomplished some great things for our people.
Related Speakers View all
---
Daniel Altman

Sports Analytics & Strategy Expert

Peter Thiel

Former CEO and Co-founder of PayPal; Technology Entr...

Ambassador Dennis Ross

Author, Counselor & William Davidson Distinguished F...

Norman Ornstein

Bestselling Author, Political Analyst & Resident Sch...

Julianne Malveaux

Author, Economist, Founder & Thought Leader Economic...

Dan Ariely

Behavioral Economist; Professor at Duke University; ...

Toby Cosgrove

Former CEO & President at Cleveland Clinic

Fred Hassan

Chairman of Baush + Lomb and author of "Reinvent: A...

Glenn Roberts

Wheat and Rice Farmer; Owner of Anson Mills

David Smick

Chairman & CEO, Johnson Smick International, Inc.

Seth Berkley

CEO of Gavi, the Vaccine Alliance; Medical Doctor Sp...

Francis Tapon

Author, Harvard MBA, and World Traveler

Anton J. Gunn

Motivational Leadership Speaker, Author & Healthcare...

Shawn Achor

Harvard Professor, Researcher & Positive Psychology ...

John Mackey

Co-Founder & CEO, Whole Foods Market

Dr. Paul Wolpe

Director of the Emory Center for Ethics

Sheena Iyengar

Columbia University Business Professor & Bestselling...

Dr. Elaina George

Otolaryngologist, Expert on the Business of Healthca...

David Cutler

Harvard Professor of Applied Economics & Author

Jonathan Strickland

Executive Producer, Writer & Podcast Host at iHeartM...
More like Steve