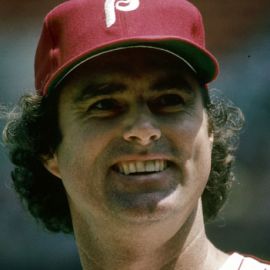 Steve Carlton
Steve Carlton was an extremely focused competitor with complete dedication to excellence. He thrived on the mound by physically and mentally challenging himself off the field. His out-pitch, a hard, biting slider complemented a great fastball. He won 329
Steve "Lefty" Carlton was born in Miami, Florida in December of 1944, played little league, American Legion ball, and pitched for Miami-Dade Community College. In 1963 while at Miami-Dade, he signed with the St. Louis Cardinals for a $5,000 bonus. He broke in with the Cards in 1965 but saw very limited action. After 19 class AAA starts, he was recalled in late 1966 and took a regular place in the Redbirds rotation. He was second in wins (14-9), and era 2.98, and innings pitched (193) for the pennant-winning 1967 Cardinals. Carlton earned a start in Game 5 of the 1967 World Series, with the Cards ahead three games to one. Facing Boston Red Sox ace and future Phillie teammate Jim Lonborg, Carlton allowed only one unearned run on an error and two singles in six innings before being lifted for a pinch hitter, trailing 1-0; he was eventually tagged with the loss. In the 1968 Series, Carlton made a pair of relief appearances in the Card'se seven-game loss to Detroit.
After the Series, Carlton joined his team on a trip to Japan. Even though he'd been an All-Star in 1968, the first of his 10 selections, he began experimenting with the slider, which became his signature pitch. His slider, nearly as hard as his fastball, broke down and in late to right handed batters. In 1969, his first year using the pitch, Carlton's ERA dropped by 0.82, his strikeout total jumped by 48 compared to 1968 in roughly the same number of innings, and his win total dimbed from 13 to 17. He highlighted his season on September 15 by striking out 19 New York Mets, only to lose, 4-3, as Ron Swoboda slugged a pair of two-run homers.
Carlton held out because of a contract dispute and missed spring training in 1970, then lost 19 games that season. He turned around and won 20 in 1971, the first of six 20-win seasons, then held out again for a raise to $60, 000. The Cardinals wouldn't budge from $55,000 and made Carlton an offer he couldn't refuse, trading him to Philadelphia for pitcher Rick Wise on February 25, 1972. The trade may have inspired revenge in Carlton. From then on he beat the Cardinals handily, compiling a 38-14 mark against his former club.
In 1972 Carlton became the fifth pitcher ever to win 20 games for a last-place team, collecting 27 of the Phillies' 59 victories, a record 45.8 percent! Carlton's 27-10 record included a 15-game winning streak, eight shutouts, and 30 complete games, which was the highest completion total since the 1940's. He won the pitching Triple Crown, leading the NL in wins, ERA, and strikeouts, and also topped the circuit with 346 1/3 innings, the most by a National Leaguer since 1953.
He fanned 310 batters in 1972, becoming the second NL pitcher to top 300, was a unanimous 3choice for the Cy Young Award, and finished fifth in the Most Valuable Player voting. He was less impressive in the three seasons that followed, winning 13, 16 and 15, partly due to occasional soreness in his left elbow. Change helped him in 1976. He started conditioning exercises with Phillies trainer Gus Hoefling. Long-time friend and catcher Tim McCarver joined the team and he adjusted his stance on the rubber, which improved his control. By 1977 his slider was at its peak. The Phillies won their first NL East title. He led the league in wins (23-10) and captured his second Cy Young Award. An intense competitor, Carlton took umbrage at some of the things that were being said in the Philadelphia papers, leading to his ceasing to talk to the press altogether.
Carlton won his third Cy Young Award in 1980, leading the league in strikeouts (286) and wins (24) while posting a 2.34 ERA. He won one game in the LCS series and he beat the Royals twice in the World Series. Lefty won his NL record-setting fourth CY Young Award in 1982, going 23-11 with league highs in strikeouts (286) and innings pitched (295). (Note: in 1998 Roger Clemens won an unprecedented fifth Cy Young Award while pitching for the Toronto Blue Jays)
Wear and tear began to take its toll and the southpaw retired in 1988. In 1989 tthe Phillies retired Carlton's No. 32 as the greatest pitcher in the team's history and the owner of virtually every Phillies pitching mark. He was elected to the Hall of Fame in 1994, his first year of eligibility.
Videos
---
Related Speakers View all
---
Max Scherzer

American Professional Baseball Pitcher, Detroit Tigers

Matt Harvey

Matthew Edward Harvey is an American Major League Ba...

Greg Maddox

Baseball Player

Rickey Henderson

African American professional baseball player

Rafael Palmero

Thus the Holy Father accepted the resignation of t...

Larry Walker

Entries on this list discuss the plight of Relief Pi...

Doc Gooden

Former MLB pitcher Dwight 'Doc' Gooden has been char...

Roberto Alomar Jr.

Former Major League Baseball Player, Elected to Base...

Ray Lankford

COOPERSTOWN, N.Y. -- Busch Memorial Stadium, the hom...

Andre Dawson

Former Outfielder for the Montreal Expos & Chigaco C...

Tommy John

Former MLB Baseball Pitcher

Sammy Sosa

Former Professional Baseball Player, Businessman and...

Phil Niekro

Philip Henry Niekro was born April 1, 1939 and nickn...

Ralph Kiner

Ralph McPherran Kiner was born October 27, 1922 and ...

Willie McCovey

Willie Lee McCovey was born January 10, 1938 in Mobi...

Bernie Williams

Former Outfielder for MLB's New York Yankees & 4-Tim...

Joel Madden

Lead Vocalist of Good Charlotte, Record Producer, A...

Ken Griffey Sr.

Former MLB Player for the Cincinnati Reds, New York ...

Jay Bruce

MLB Right Fielder

Jason Heyward

MLB Right Fielder
More like Steve