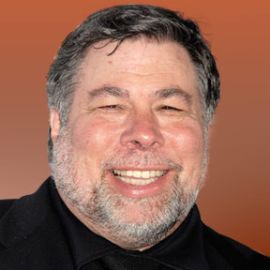 A Silicon Valley icon and philanthropist for more than 30 years, Steve Wozniak has helped shape the computing industry with his design of Apple's first line of products, the Apple I and II, and influenced the popular Macintosh. In 1976, Wozniak and Steve Jobs founded Apple Computer, Inc. with Wozniak's Apple I personal computer.
For his achievements at Apple Computer, Wozniak was awarded the National Medal of Technology by the President of the United States in 1985, the highest honor bestowed on America's leading innovators.
In 2000, Wozniak was inducted into the Inventors Hall of Fame and was awarded the prestigious Heinz Award for Technology, the Economy, and Employment for single-handedly designing the first personal computer and for then redirecting his lifelong passion for mathematics and electronics toward lighting the fires of excitement for education in grade school students and their teachers.
He currently serves as chief scientist for Fusion-IO and is a published author with the release of his New York Times best-selling autobiography, iWoz: From Computer Geek to Cult Icon. He has appeared on such television shows as Kathy Griffin: My Life on the D-List, ABC's Dancing with the Stars, and The Big Bang Theory.
Wozniak's core areas of interest are creativity, innovation, entrepreneurship, and education and robotics/automation. He takes a customized approach to each presentation, resulting in a highly personalized, unforgettable talk delivered by one of the most influential pioneers of the technology industry.
Speech Topics
---
The Founding of Apple Computer, Inc.
Remarks by Steve Wozniak
Steve Wozniak takes a very customized approach to each presentation he delivers and speaks directly with the event host to ensure a topical focus that is unique, conversational and an excellent tie-in with the overall event. The result is a highly personalized, unforgettable talk delivered by one of the most influential pioneers of the technology industry.
Mr. Wozniak's core areas of interest are: - The founding of Apple computer - How to foster creativity and innovation in a technical environment - How to breed an entrepreneurial mindset in a corporate culture - iWoz, his autobiography - Robotics and automation - Education
Related Speakers View all
---
Randi Zuckerberg

Founder & CEO, Zuckerberg Media, Former Head of Mark...

Ray Kurzweil

Chairman of Kurzweil Technologies; Inventor; Futurist

Peter Diamandis

Chairman and CEO, X PRIZE Foundation; Author

J.B. Straubel

Co-Founder & Chief Technical Officer, Tesla

Biz Stone

Co-Founder of Twitter

Tony Hsieh

CEO of Zappos

Guy Kawasaki

Chief Evangelist of Canva; Former Advisor of Motorol...

Daymond John

Founder/CEO of FUBU, Presidential Ambassador for Glo...

Gary Vaynerchuk

Co-Founder & CEO, VaynerMedia

Dr. Michio Kaku

World-Renowned Theoretical Physicist

Andrew McAfee

Associate Director and Principal Research Scientist,...

Jim McKelvey

Co-Founder of Square, Engineer and Entrepreneur; Fou...

Chip Conley

Strategic Advisor for Hospitality and Leadership at ...

Sir Richard Branson

Founder of Virgin Group

Josh Linkner

Founder and CEO of HelloWorld, a Digital Promotions ...

Terry Jones

Chairman at Wayblazer, Founder of Travelocity.com & ...

Seth Godin

New York Times Bestselling Author of "Purple Cow", "...

Simon Sinek

World-Renowned Leadership Expert & Best-Selling Author

Alexis Ohanian

Partner at Y Combinator; Co-Founder of reddit, Entre...

Barbara Corcoran

Real Estate Entrepreneur and Mogul, Angel Investor, ...
More like Steve