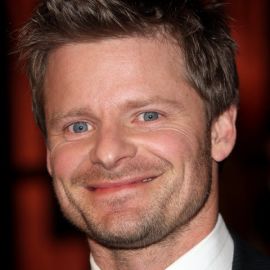 Steve Zahn
Steve Zahn is an actor known for his roles in "That Thing You Do!," "Happy, Texas," "Riding in Cars with Boys" and stars in the upcoming series "Mind Games."
Actor Steve Zahn's roots were on the dramatic stage, which might have seemed surprising considering his big screen comedy career playing inept sidekicks in films like "Out of Sight," "Happy, Texas," and "Riding in Cars with Boys." But the appeal of Zahn's comic relief was the realism and vulnerability he lent his oddball misfits, and as he aged into new territory with Werner Herzog's "Rescue Dawn" and the epic Western "Comanche Moon," it became clear that his light touch belied an actor with a much wider range than "stoner bud."
Steve Zahn was born on Nov. 13, 1967, and grew up on a farm in the Southwestern Minnesota town of Marshall. His father was a Lutheran pastor who -- somewhat surprisingly -- encouraged his class clown son by buying him hardly G-rated George Carlin records. In high school, Zahn found an outlet for antics by joining the theater department, eventually expanding to regional theater performances. Following high school graduation and less than a semester at Gustavus Adolphus College in St. Peter, Zahn was living in his parents' basement and working as a machinist when he successfully auditioned for a role in "Biloxi Blues" at a local dinner theater. The eight-month run paid more than any labor jobs he had held before. Suddenly acting seemed like a realistic career option. He stepped up his efforts and was accepted at the prestigious American Repertory Theater in Cambridge, MA, where he ended up studying drama for two years.
In 1991, Zahn move to New York with his sights set on Broadway. He landed a 13-month long tour of the musical "Bye Bye Birdie" starring Tommy Tune, where he also met a cast mate who would become his wife, Robyn Peterman. Back in New York, Zahn resumed an exhausting schedule of auditions, hoping to score the lucrative commercials that traditionally kept actors alive between shows. However, in the advertising world of exaggerated personalities, Zahn's realism worked against him and he was never hired to extol the virtues of fast food or video games. But in 1993, he appeared Off-Broadway in Ethan Hawke's play "Sophistry" where he caught the eye of Ben Stiller. Stiller helped launch Zahn's career -- as well as that of Hawke and Janeane Garofalo -- with his directorial debut, "Reality Bites." Zahn played one of the more charming characters in the Gen X time capsule of irony and slacking -- "the gay friend" coming to grips with coming out. At the time he was savoring his first major big screen role, Zahn further explored the phenomenon of aimless youth in Eric Bogosian's "subUrbia" at Lincoln Center, in a role he had originally workshopped with the playwright in Cambridge several years earlier.
Zahn's profile got a mainstream boost in 1995 with his guest role as Phoebe's Canadian green card husband Duncan on "Friends." Starting to build a solid reputation as a comic character actor, he was cast by Tom Hanks in "That Thing You Do!" where he gave a stand-out performance as The Wonders' goofy, girl-crazed lead guitarist Lenny. The following year, he recreated his role of Buff, the New Age rollerblader, in Richard Linklater's screen adaptation of "Suburbia." In 1998, Zahn's boyish face and bright blue eyes suddenly seemed to be everywhere, on screens both big and small. An impressed Hanks recruited him a second time for a supporting role in the miniseries "From the Earth To the Moon," before he landed his biggest role yet -- starring opposite Sam Rockwell in the indie comedy "Safe Men." The perfectly cast pair played wannabe lounge singers on the nursing home circuit who are mistaken for safe crackers by the Jewish Mafia. The film flew under the theatrical radar but went on to build a healthy cult following on home video and DVD.
Zahn again impressed critics and moviegoers with his portrayal of a small-time ex-con in Steven Soderbergh's hip crime dazzler "Out of Sight," starring George Clooney and Jennifer Lopez. Zahn's stoned, terrified, and utterly incompetent character Glenn Michaels reinforced not only his talent for inhabiting fringy outcasts, but his ability to infuse them with believable vulnerability instead of relying on easy, broad comedy. Zahn rounded out 1998 with supporting roles in the romantic comedies "The Object of My Affection" (playing Paul Rudd's womanizing brother) and "You've Got Mail," reteaming with Hanks in a remarkably funny, albeit brief, performance as a turncoat bookshop worker.
In 1999, Zahn received a Special Jury Prize award at the Sundance Film Festival for his role as one of two escaped convicts (the other played by Jeremy Northam) posing as gay directors in a small town in "Happy, Texas." As Wayne Wayne Wayne Jr., Zahn proved a capable leading man, easily carrying the film through its rough spots with his charismatic performance. Offscreen, however, the character actor was still a relative unknown, unable to even procure tickets to the Sundance event that honored him. But Zahn was relatively unfazed, as he had chosen to live on a farm (first in New Jersey; then in Kentucky) far from Hollywood with his wife and kids. For the most part, his real-life outsider status did not appear to hinder his career, as he continued to land supporting roles in major films, starring as Ben Affleck's best buddy in "Forces of Nature" and breaking into voice work with animated hit "Stuart Little" the same year.
In 2000, Zahn's Rosencrantz was paired with Dechen Thurman's Guildenstern in the highly-acclaimed update of "Hamlet," starring Ethan Hawke. The following year, Zahn brought "flakey stoner" to new heights with his role opposite Drew Barrymore in "Riding in Cars with Boys," which top film critics -- including Roger Ebert -- declared an Oscar-worthy performance. Zahn landed a starring role in a big budget comedy the following year, "Saving Silverman." Zahn then jumped into "Joy Ride," an effective but little-seen road trip thriller from director John Dahl.
The in-demand sidekick began getting more lucrative offers to appear alongside top box office comedians like Martin Lawrence ("National Security," 2003) and Eddie Murphy ("Daddy Day Care," 2003), but the bigger paychecks seemed to be attached to two-dimensional characters that failed to showcase Zahn's talents. The aging actor was also becoming less enthralled by the call of stoner ex-con roles; thus he began making a transition -- starting with the compelling, critically hailed drama "Shattered Glass," based on the true story of New Republic wunderkind journalist Steven Glass (Hayden Christensen), whose false reporting was discovered by another reporter (Zahn). Zahn next co-starred with Matt Dillon in the dark comedy caper "Employee of the Month," which debuted at Sundance, before appearing in his first big budget action adventure "Sahara."
Werner Herzog's gripping war drama "Rescue Dawn" was an extraordinary film in which Zahn gave possibly the best performance of his life portraying an American soldier who befriends a downed pilot in a Southeast Asian POW camp. Zahn gave another stellar performance and introduced his talent to Western audiences with his role as Gus McRae in the Larry McMurtry miniseries "Comanche Moon" in the fall of 2007.
Lately, Zahn has appeared in "Strange Wilderness," the "Diary of a Wimpy Kid" series, the TV show "Treme," and he stars in the upcoming ABC drama "Mind Games" opposite Christian Slater.
Videos
---
Related Speakers View all
---
Johnathon Schaech

Actor, Writer & Director; Known for his Roles in "Ra...

Chris Hemsworth

Actor Known for "The Avengers," "Snow White and the ...

Evan Peters

Actor Best Known for best known for his Roles on the...

Scott Wilson

Best known as Hershel Greene on AMC's "The Walking D...

Nick Wechsler

Actor; Best Known for the TV Series "Roswell" and "R...

Cheyenne Jackson

Star of Broadway and TV's "Glee" and "30 Rock"

Matt Dallas

American actor, best known for playing the title cha...

Matt Passmore

Matt Passmore is an Australian actor. He is known fo...

Simon Lovell

English Comedy Magician, Card Shark Actor and Con Man

Andy Buckley

Actor, Screenwriter & Stockbroker; Known for his Rol...

Brian Patrick Wade

Brian Patrick Wade is an American actor notable for ...

Ryan Pinkston

American Actor Known for "Clipped"

Dee Snider

Daniel "Dee" Snider is an American singer-songwriter...

Tom Sizemore

Actor

Troy Winbush

Troy Winbush is an American actor.

D.W. Moffett

Donald Warren "D. W." Moffett is an American actor k...

Alexander Koch

Alexander Koch V is an American actor. He plays the ...

Mark Famiglietti

Mark Famiglietti (born September 26, 1979) is an Ame...

Tim Lopez

Tim Lopez / member of the popular band The Plain Whi...

Dan Harmon

Creator & Executive Producer for the NBC Television ...
More like Steve