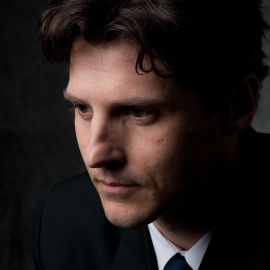 Steven Fischer
Emmy Nominated Independent Filmmaker; Expert on Creative Self-Development & Potential
Steven Fischer is a two-time Emmy® nominated writer/producer/director who also shoots and edits. He is noted for artful personal stories that explore the human condition.
At 17, Steven was a working cartoonist noted for his beloved comedy team, Steve & Bluey, published in two books, on television through TCI Communications, and as theatrical radio specials. Under the guidance of his mentor, producer Steve Melendez (Peanuts, Fred Basset, and the Emmy®-winning The Lion, The Witch and The Wardrobe), Steven was introduced to the professional world of animation.
His film credits include the critically acclaimed animated documentary Freedom Dance with Mariska Hargitay and Old School New School with celebrated actor Brian Cox and jazz legend McCoy Tyner among many other internationally acclaimed artists.
His commissioned work includes English, Spanish, Portuguese, Hindi, Polish, Japanese, and Romanian language projects for: Maryland Public Television/PBS, Oprah Winfrey Network, TV Asia, Romanian Television Network, Polish National Alliance, Nalco/Ecolab, Nextel, DuPont, National Foundation for Advancement in the Arts, Screen Arts Animation, Hollywood Stars II, and AmeriCorps. His acting credits include: Chicago Fire (NBC), The Mob Doctor (FOX), Shameless (Showtime), The FBI Files (Discovery Networks), and Hollow Man (Columbia Pictures).
Steven's work has been honored by The Academy of Television Arts & Sciences, The New York Festivals, CINE, The Directors Guild of America, the Telly Awards, the Addy Awards, Glimz Sweden, World Fest International Film Festival, White Sands International Film Festival, Maryland Film Festival, and Marquis Who's Who in Entertainment.
In 2010, for his contributions to the arts, The Daily Record named Steven on their list of 60 Influential Marylanders. In 2013, he received a Fulbright Award from the US Department of State, Bureau of Education and Cultural Affairs, as a Specialist in creativity and storytelling. His first invitation was as a guest artist at University of Debrecen, Hungary.
Steven has traveled extensively throughout North America, Europe, Asia, and the Middle East. He is sought internationally to speak on creativity and has been honored by invitations from: Northwestern University, Harvard Medical School, Cunard, SeaDream, Mindcamp Canada, and Debreceni Egyetemi Theatre Festival.
Videos
---
Speech Topics
---
Five Ways We Nurture Creativity
Two-time Emmy® nominated writer/producer/cartoonist Steven Fischer shares the ways he's nurtured his creativity throughout an arts career spanning 20-years. He reveals how we discover and refine our unique voice, dissects the creative process, and outlines the foundation needed to strengthen natural creativity.
Cartoons That Heal
Two-time Emmy® nominated writer/producer/cartoonist Steven Fischer takes a look at the relationship between healing and non-fiction cartoon storytelling. Exploring the psychology and philosophy of cartoon art (with examples from acclaimed cartoonists Lynda Barry, Jeffrey Brown and Charles Schulz), Fischer shares revealing personal stories from his own search for meaning and understanding, an uplifting adventure that led him to an international, award-winning career in the arts.
Love Your Characters to Life
Steven Fischer, a two-time Emmy® nominated writer/producer/cartoonist, takes us through his journey in cartoons that led to an award-winning career in the arts working on projects with such creative luminaries as Martin Scorsese, Brian Cox, Mariska Hargitay, and animation legend Bill Melendez. Fischer explores the philosophy and psychology of character creation, inspiration, creativity, and storytelling in ways that help aspiring storytellers effectively bring their characters and stories to life.
Related Speakers View all
---
Jeff Orlowski

Award-winning Filmmaker, Photographer, Entrepreneur,...

Debbie Millman

Writer, Educator, Artist, Brand Consultant & Host of...

F. Gary Gray

Director, Film Producer, and Actor; Best Known for D...

Andrew Stanton

Film Director, Screenwriter, Producer, & Voice Actor...

The Second City

World-Famous Comedy Troupe

Spike Lee

Academy Award-Winning Writer, Producer, Actor & Dire...

Lisk Feng

Illustrator

Freida Lee Mock

Academy Award-Winning Filmmaker, Director, Screenwri...

Rama Allen

Executive Creative Director at The Mill

Jonny Sun

Humorist, Author & Illustrator

Autumn de Wilde

Photographer & Filmmaker

Boots Riley

Rapper, Producer, Screenwriter & Director; Known for...

Tim Urban

Writer, Illustrator & Co-Founder of "Wait But Why;" ...

Kevin Eastman

Comic Book Artist and Writer

Colleen Coover

Comic Book Artist; Known for LGBT Work

Ray Billingsley

Comic Book Artist; Created Comic Strip "Curtis"

Sergio Aragonés

Spanish/Mexican Cartoonist and Writer

Joe Quesada

Chief Creative Officer of Marvel; Comic Book Editor,...

Sara Schaefer

Comedian & Writer

Zach Weinersmith

Comic Artist; Author and Illustrator of the Webcomic...
More like Steven