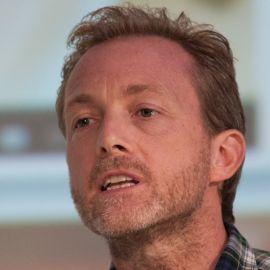 Steven Kydd
Steven Kydd is an entrepreneur, advisor, and executive with 20 years of experience in media, technology and international business.
Prior to Tastemade, Steven was part of the founding team of Demand Media (NYSE: DMD) and Executive Vice President of Demand Studios, a platform and community which became one of the leading producers of original content on the Internet.
Previously, Steven worked as VP of Business Development & Strategy for Yahoo!. As one of the Yahoo! Media Group's early employees in Hollywood, Steven managed content and advertising relationships with major media and tech companies. Prior to Yahoo!, Steven was a Vice President with eTour Inc, a fast growing start-up in Atlanta.
Steven also served as VP of Internet Marketing and other executive roles with 20th Century Fox International in Hong Kong, Indonesia, and Los Angeles. He began his career at a boutique market research and consulting company, Macro International, as a Project Manager in Poland and Russia.
Steven attended the University of Maine earning a degree in Business Administration. He also studied at the Ecole Superieure des Affaires in Grenoble, France. In 1992, Steven was one of 50 Americans selected for the Congress-Bundestag Exchange For Young Professionals which included studies at the Free University in Berlin, Germany and work at the Treuhandanstalt, the agency that privatized East German enterprises.
Steven recently served as an advisor to Bluefin Labs just prior to its acquisition by Twitter.com.
Steven lives in Santa Monica, California with his wife Sal, and children, Oliver & Lola.
Videos
---
Related Speakers View all
---
Steve Bock

CEO, Shinola

Reed Shaffner

Co-Founder & Co-CEO, Workpop

John Ball

Founder & Managing Director, Steamboat Ventures

Sean Brecker

CEO, Headspace

Sam Teller

Managing Director & Co-Founder, Launchpad LA

Jamie Kantrowitz

Mentor, Launchpad LA

Steve Pomerantz

Co-Founder, Tuition.io

Brendon Mcqueen

Co-Founder & CEO, Tuition.io

Arun Mehra

Co-CEO, Talenthouse

Amos Pizzey

Co-Founder & Co-CEO, Talenthouse

Roman Scharf

Chairman & Co-CEO, Talenthouse

Kunal Anand

Co-Founder & CTO, Prevoty

Julien Bellanger

Co-Founder & CEO, Prevoty

David Asarnow

Principal, Craton Equity Partners

Matt Sandler

Co-Founder & CEO, Chromatik

Zach Frechette

Co-Founder & CEO, Quarterly

David Norris

Founder & CEO, MD Insider

Paul Bricault

Founder & MD, Amplify.LA

Michael Todd

Co-Founder & CTO, Victorious

Mike Townsend

Co-Founder, HomeHero
More like Steven