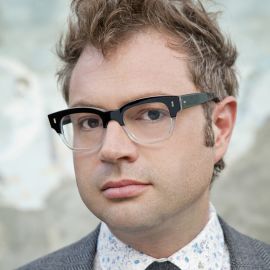 The great thing about pop songwriters is that they, almost without fail, get better with age. When young audiences were once expected to grow into more "serious" styles of music as they matured, modern pop has become the mirror we all now hold up to reflect the complexity of life, while at the same time use to keep us grounded in the notion that a three-minute song can still be the most perfect thing the world can offer.
Steven Page understands this better than most of us, and his new solo album, Heal Thyself, provides twelve examples why. It's clearly displayed right from the opening track "There's A Melody," a brief comment on the eternal struggle to get the sounds in one's head onto tape, conveyed through an irresistible one-note tune that, ironically, will immediately burrow deep into the listener's brain.
The sheer joy embedded in this simple introduction sets the tone for the entire album, as inventive and infectious arrangements intertwine with thought-provoking lyrics. It's a combination Page has honed throughout his 25-year career as one of Canada's most recognized musicians, and with Heal Thyself, the long-awaited follow-up to his 2010 album Page One, Steven Page has firmly established his own identity as a songwriting craftsman in the truest sense.
The Toronto native explains that at the outset he had a collection of material seemingly containing a common thread, suggesting an overarching concept for a record. To help sort through the ideas, Page first contacted his longtime collaborator Craig Northey, Canada's resident power pop auteur, who came on board as co-producer, bringing along his band the Odds to play on most of the tracks. Others were recorded with Page's live band, the Original Six, comprised of Bryden, Jay and Jesse Baird, with Kevin Fox and Karen Graves on strings.
Work on Heal Thyself actually started not long after the release of Page One, but Page's other creative endeavors gave time for the album to evolve naturally between sessions at Northey's Vancouver studio and Page's studio northeast of Toronto. The new songs eventually came into focus as a picture not far removed from our current reality, in which political and spiritual forces have eroded faith in art and science, as heard on songs such as "Work At Hand," and "Mama." This inherent theme has also motivated Page to write a stage play based on the album.
He describes his approach with these songs as being in the tradition of Canadian satire; something Page has gained an entirely new perspective on since moving to the US several years ago. It also led him to think seriously about his own place in the wider musical sphere.
"I've always had a problem describing myself as an artist, and it got even harder after moving to the U.S. where that word has been devalued considerably," Page says. "There was always a sense of guilt that I didn't have a 'real job,' and that got channeled into some of these new songs, almost as a reaction to the mistrust and spitefulness that pervades so much of our current discourse in North America."
That being said, Page never considered deviating from the fun that has always infused his work. In particular, his undying love of Beatles and Beach Boys-style pop-rock is as prominent as ever, and most evident on "I Can See My House From Here," "Linda Ronstadt In The 70s," and Heal Thyself's first focus track, "Surprise Surprise." Overall, the album continues Page's long tradition of marrying the sweet with the tart in a way that can sound deceptively palatable.
"I've always had a sense of wonder about that era of Sixties and Seventies music, and probably always will," he says. "I remember getting Paul McCartney's second solo album for my 11th birthday, and there's a picture in it of him standing in front of his 16-track machine in his home studio, with his kid tugging at him. I think from the moment I saw that photo, while listening to this strange album he'd made at his house, I decided I wanted to do the same thing."
Page soon followed through on that promise to himself, making 4-track tapes with friends on weekends. This eventually led to the formation of Barenaked Ladies in 1988, one of the seminal bands of Canadian indie rock's first golden period. By the time of Page's official departure in 2009, the group had earned six North American Gold and Platinum-certified albums. These included their early cassette "The Yellow Tape," which became the first Canadian independent release to sell 100,000 copies, their major label debut album, Gordon, which achieved Diamond status in Canada for domestic sales in excess of 1 million copies, and 1998's Stunt, which sold over 5 million copies worldwide.
Along with embarking on a solo career, Page has enjoyed the freedom to collaborate with his close friend, British singer/songwriter Stephen Duffy, and participate in many projects with Toronto's acclaimed Art Of Time Ensemble. On top of that, he scored the music for five Stratford (Ontario) Shakespeare Festival productions, and hosted his own globetrotting food program, The Illegal Eater, which airs in Canada on AUX-TV and globally on the Discovery Network.
With the release of Heal Thyself, Page has not only made a full-fledged return to the pop world, but has offered a timely statement on how the constant finger-pointing in both mainstream and social media has led us to forget that answers often lie within ourselves. "Sometimes the things we deride contain the very things we need to make us whole," he says. "In that sense, there's some irony in calling the album Heal Thyself. I almost called it The Golden Age Of Television."
Such sentiments will surely delight those who have followed Steven Page throughout his career, and even those unfamiliar with him will recognize that Heal Thyself displays a singular, inclusive vision. As the music industry continues to evolve, artists such as Steven Page will remain the ones keeping listeners consistently engaged with albums appealing equally to the heart and the head. As he says, "The best you can do is make the art you are driven to make, and in the end I know this album sounds like me."
Videos
---
Related Speakers View all
---
Allen Stone

Soul and R&B Singer Who Sees Himself as a "Hippie Wi...

Smash Mouth

Multi-Platinum Pop-Rock Group Known For "All-Star," ...

Sam Tsui

Musician & Internet Celebrity Who Rose to Fame on Yo...

Chris Mann

Singer-Songwriter & Finalist on NBC's "The Voice"

Sara Evans

Country Singer-Songwriter Known for Smash Single "A ...

Pat Monahan

Singer, Songwriter, Lead Singer of Train

Stephan Jenkins

Lead singer, Third Eye Blind

Lyle Lovett

American Country Singer-Songwriter & Actor

Don Felder

Former Lead Guitarist of the Eagles

G Love Solo

G. Love & Special Sauce are an Alternative Hip-Hop P...

Colbie Caillat

Two-time Grammy Winning Singer Known for "Bubbly"

Luke Combs

Country Singer-Songwriter

Delta Rae

Folk Rock Band Formed in Durham, NC

Rick Springfield

Australian Musician, Singer-Songwriter & Actor Known...

Weezer

American Rock Band

Bret Michaels

Singer-Songwriter, Musician & Reality Television Per...

Jewel

Singer-Songwriter, Advocate for People Experiencing ...

Foster the People

Alternative Rock Group Known for "Pumped Up Kicks"

RaeLynn

Singer-Songwriter, Best Known for "God Made Girls;" ...

Art Alexakis

Musician, Singer-Songwriter & Guitarist; Front Man o...
More like Steven