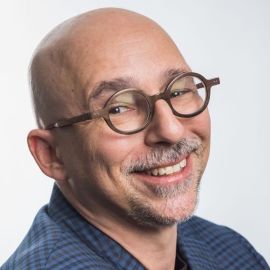 Steven Rosenbaum is an Author, Entrepreneur and Curator.
He's founded five companies in the content space, with a drive to connect consumers, storytellers, and brands.
Rosenbaum is known as the father of UGC (user-generated content) as the creator of the groundbreaking series MTV News Unfiltered.
A sought after speaker, Rosenbaum's passion for the emerging content ecosystem has had him presenting to audiences across the US and Abroad. Talks include SXSW, TED, BBC, IEEE Globecom, DLD, IAB, Pivot, Digital Now, DevLearn, Tools Of Change and the Monaco Media Forum.
As a thought leader and writer, Rosenbaum's books include his first book Curation Nation - How To Win In A World Where Consumers Are Creators published by McGrawHill Business in March of 2011. The book explores the emerging phenomenon of human organization and publishing of content. His second book "Curate This!" published in October, 2014. Said reviewer Brian Solis, "Rosenbaum's vision has shaped a new wave of technology startups, platforms and media channels that would empower everyday experts to create and curate content for networked audiences around the world."
His weekly writing includes a column for Forbes.com and Huffington Post Technology. As well as regular contributions to Fast Company, Columbia Journalism Review, Business Insider, Mashable and The Atlantic.
As an inventor, Rosenbaum's passion for curation and content discovery innovation resulted in two foundational inventions, and the awarding of two patents in the areas of video curation and advertising technology. Just a year after YouTube was founded, Rosenbaum filed Patent No. 8,117,545 "Hosted video discovery and publishing platform" which was granted in 2012. And in 2014 Patent No. 208,812,956 "Video curation platform with pre-roll advertisements for discovered content"
Rosenbaum is the CEO of Waywire.com a video curation and channel aggregation web site that was founded by Senator Cory Booker. Rosenbaum's Magnify.net purchased Waywire in October 2013, and brought together the two technologies and operations. Together Waywire.com and Enterprise.waywire.com power 100 enterprise video curation sites, and aggregate and curate another 500 sites. Techcrunch reported the purchase saying Magnify.net was buying Waywire to create a "Consumer Curation Powerhouse."
As a filmmaker and long-form storyteller Rosenbaum directed the documentary feature "7 Days in September" a look at 9/11 and the week after. The film has a rare 100% Tomatometer rating on Rotten Tomatoes. Rosenbaum also created the CameraPlanet 9/11 Archive, an archive of footage from September 11 and its aftermath which he donated to the National 9/11 Memorial Museum. Rosenbaum has received 2 Emmy Awards, 6 New York Festival's World Medals, 4 CINE Golden Eagles, and 6 Telly Awards.
Rosenbaum won an Emmy Award for BROADCAST: New York and then created the series MTV News UNfiltered for MTV, an early example of viewer-generated content in broadcast. "News Unfiltered" encouraged people film their own stories.
Rosenbaum was New York City's first Entrepreneur at Large working with New York's startup community and NYCEDC, and Rosenbaum was named Purdue University Science Journalism Laureate in 2011.
Speech Topics
---
Speech Topics
Branded Storytelling: How to make your message matter is a fast moving, digital, social world.
Curation. The New Magic of the Web.
Brands, Storytelling, and the real-time web.
Living The Curated Life
Related Speakers View all
---
Jon Steinberg

Founder & CEO of Cheddar; Former President and COO o...

Lori Cheek

Architect; Entrepreneur; Founder & CEO of Cheekd

Bonin Bough

Former Chief Media & eCommerce Officer at Mondeléz I...

Nicole Yeary

Founder & CEO of Ms.Tech

Peter Guber

Executive, Entrepreneur & #1 NYT Bestselling Author,...

Jeff Jarvis

Leader in the Development of Online News & Blogging;...

Sheryl Sandberg

COO of Facebook, Bestselling Author & Founder of Lea...

David Pogue

Host of NOVA ScienceNow & Yahoo Tech Columnist

Dave deBronkart

Kidney Cancer Survivor & Patient Advocate Known as "...

Alexandra Wilkis Wilson

Entrepreneur, Board Director, Investor, Advisor, Men...

Adam Ostrow

Chief Digital Officer, TEGNA

R "Ray" Wang

Founder, Chairman & Principal Analyst at Constellati...

Seth Godin

Business & Marketing Expert & New York Times Bestsel...

Igor Beuker

World Authority on Marketing and Media

Tim Sanders

Bestselling Author, Technology Pioneer, Expert on Co...

Ray Kurzweil

Chairman of Kurzweil Technologies; Inventor; Futurist

Esther Dyson

Executive Founder of Way to Wellville

Sir Richard Branson

Businessman, Founder of Virgin Group

Dan Ariely

Behavioral Economist; Professor at Duke University; ...

Allyson Kapin

Founder of Women Who Tech; Founder of web agency Rad...
More like Steven