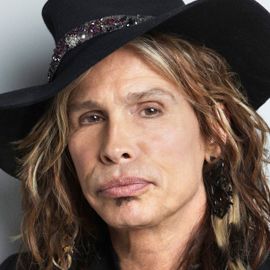 Known for his irrepressible style, larger-than-life stage presence, and ability to connect with people, Steven Tyler has become a modern day rock icon as lead singer of the super group Aerosmith.
Having realized his lifelong passion for music at an early age, Tyler used to sit under the piano as a young boy while his father – a classical pianist – honed his craft. It wasn't long before he was singing in the local choir, had formed a small band who opened for the likes of The Beach Boys and the Yardbirds, and eventually fell into the presence of Joe Perry and Tom Hamilton, ultimately forming Aerosmith.
The early years saw the band struggle as they fought to make ends meet, playing the Boston club circuit, dodging eviction notices in their cramped apartment, and stealing food to get by. Recalls Tyler, "There were five of us in the group, some of us living in the kitchen, eating brown rice and Campbell's soup. Those days a quart of beer was heaven. It was hard times and it was really good."
Finally in 1971, the group saw its break when they signed their first record deal. In the years following, Aerosmith was instantly thrust into the international spotlight with the release of such albums as Get Your Wings, Toys in the Attic, Rocks, and Draw the Line. Over the years, the band was honored with several industry awards and countless accolades, known for Grammy-winning and Billboard chart-topping hits such as "Cryin," "Amazing," "I Don't Want to Miss a Thing," "Livin' on the Edge," "Crazy," and "Pink."
A testament to the power of dedication and perseverance in life, Steven Tyler has been through it all – from overcoming substance abuse to surviving a 10-year battle with Hepatitis C to maintaining a successful touring schedule with one of the greatest bands of our time. He shares insight into his life, thoughts, and storied career.
Speech Topics
---
Dream On: An Intimate Evening with Steven Tyler
Steven Tyler, known for his great wit and ability to connect with people, will share insight into his life, thoughts, and storied career with the super group, Aerosmith, in a 90-minute stage presentation with mixed media.
The program opens with an intimate performance of one of his legendary songs and then moves into a formal 50-minute presentation where this most prodigious bad boy of rock recounts some life changing moments, starting with the summer of 1970 when the fortuitous blend of Tom Hamilton on bass, Joe Perry on guitar, and Tyler as lead vocals spawned the legendary group, Aerosmith.
Reminding the public that success is not always spawned from silver spoons, Tyler tells of Aerosmith's struggle to forge ahead while living in a cramped Boston apartment, dodging eviction notices and stealing food from supermarkets to survive. Once success was realized, he shares the toll touring took on the bandmates, the drug and alcohol addictions that crept up on them, the turmoil that arose within the group, and how they overcame it all.
In this rare and memorable presentation filled with video and stills from Tyler's journey, audiences are offered an intimate look into the extraordinary life of a rock icon. The event includes a 30-minute question and answer period before ending on a musical note.