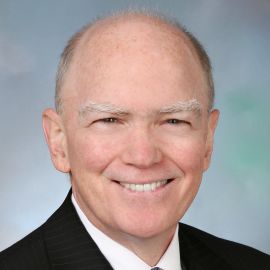 Stewart Baker
First Assistant Secretary for Policy at the United States Department of Homeland Security Under the Presidency of George W. Bush
Stewart Baker is a partner in the law firm of Steptoe and Johnson. His law practice covers homeland security, international trade, cybersecurity, data protection, and travel and foreign investment regulation. From 2005 to 2009, Baker was the first assistant secretary for policy at the Department of Homeland Security. As an intelligence lawyer, he has been general counsel of the National Security Agency and of the commission that investigated WMD intelligence failures prior to the Iraq war. He is the author of Skating on Stilts, a book on terrorism, cybersecurity, and other technology issues, which he blogs about on Skatingonstilts.com.
Videos
---
News
---
SPY ON ME, I'D RATHER BE SAFE
Stewart Baker practices law at Steptoe & Johnson, covering homeland security, cybersecurity, data protection, encryption, lawful intercepts, intelligence and law enforcement issues, and foreign investment regulation. He is the author of Skating on Stilts – Why We Aren't Stopping Tomorrow's Terrorism, a book on the security challenges posed by technology, and he writes on cybersecurity and privacy law at www.skatingonstilts.com...
All Things D Covers Stewart Baker's PRISM Debate with Guardian Editors
All Things D, a website focused on technology, the Internet and media, and published by The Wall Street Journal, covered an event hosted by The Guardian in which Steptoe partner Stewart Baker debated two Guardian editors about the ramifications of the British newspaper's recent reporting on the National Security Agency (NSA), PRISM, and the leaks by Edward Snowden...
Related Speakers View all
---
J. Christopher Daniel

Senior Associate (Consultant), Global Health Policy ...

Kristina Tanasichuk

Founder & CEO, Government Technology & Services Coal...

Frank Gaffney

Founder and President of the Center for Security Pol...

Daniel Pipes

Foreign Policy Expert & President of The Middle East...

Michele Rigby Assad

Former C.I.A. Agent, Counterterrorism Specialist & A...

R.P. Eddy

Chief Business Officer of Zume; Founder & Chairman o...

Malcolm Nance

U.S. Intelligence Veteran, MSNBC Chief Terrorism Ana...

Dan Emmett

Author, Former US Marine Corps Captain, US Secret Se...

Ryan Mauro

National Security Analyst at ClarionProject.org; Adj...

Matthew Olsen

Former Director of the National Counterterrorism Cen...

Sarah O. Ladislaw

Co-Director and Senior Fellow, Energy and National S...

Angela Maria Kelley

Vice President, Immigration Policy at the Center for...

Frederic Wehrey

Senior Fellow of the Middle East Program at the Carn...

Chris Krebs

Former Director of the Department of Homeland Securi...

Robert Malley

Lawyer, President Obama's Senior White House Advisor...

Jeremy Bash

NBC News & MSNBC National Security Analyst; Former C...

Michael Brown

Director of the Defense Innovation Unit at the U.S. ...

Michael Glover

Former Green Beret & CIA Contractor

Leanne Caret

President and CEO of Defense, Space & Security; Exec...

Clint Watts

Distinguished Research Fellow & Author; Security Co...
More like Stewart