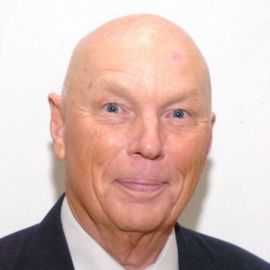 Story Musgrave, M.D. is a physician and a retired NASA astronaut.
Story Musgrave was born in 1935 on a dairy farm in Stockbridge, MA. He was in the forests alone at 3 and by 5 floated his homebuilt rafts on the rivers. He rode combines at 7, drove trucks and tractors at 10 and when alone in remote fields repaired them by 13. He soloed an aircraft at 13 and over the next 70 years flew 18,000 hours including 7000 hours in supersonic aircraft and the earning of US Air Force and NASA Wings.
He never finished school, ran off to Korea with the U. S. Marines at 17 where he was an aircraft engine mechanic, crew chief and plane captain at K-6 Airbase, Korea and on the carrier USS Wasp. He is a parachutist with over 800 freefalls including 100 experiments involving the first study of the aerodynamics of the free flying human body.
He has 6 graduate degrees in math, computers, chemistry, medicine, biological physics, and literature and has been awarded 21 honorary doctorates. He was a part-time trauma surgeon at Denver General Hospital for the duration of his astronaut career. He is the most formally educated astronaut.
He was a NASA Astronaut for over 30 years and flew on six spaceflights. He performed the first shuttle spacewalk on Challenger's first flight, was a pilot on an astronomy mission, conducted two classified DOD missions, was the lead spacewalker on the Hubble Telescope repair mission and operated an electronic chip manufacturing satellite on Columbia. He was the lead communicator in mission control for 25 missions.
Since retiring from NASA, Story serves as a producer/director of multimedia, a landscape architect, a heavy equipment operator, an artist/designer/engineer with Applied Minds Inc. and a Professor of Design at Art Center College of Design in Pasadena, CA. Story also performs multimedia presentations on the topics of design driven innovation, personal and professional development, operational excellence, human performance, reliability, quality and safety.
Speech Topics
---
Most Requested Topics
Story performs multimedia corporate presentations on the topics of:
Design-Driven Innovation
Project Management
Operations
Human Performance
Reliability, Quality and Safety
Books
---
Related Speakers View all
---
J.R. Martinez

Actor, Best-Selling Author, Motivational Speaker, Ad...

Scott O'Grady

Former U.S. Air Force Captain, Fighter Pilot Who Sur...

Bill Capodagli

Author of "Innovate the Pixar Way: Business Lessons ...

Brian Holloway

Five-Time NFL All-Pro; Motivation & Team Building Ex...

Haydn Shaw

Expert in Generational and Cross-functional Roles, C...

Jim Morris

Known for His Brief MLB Career & Subject of Disney's...

Pat Williams

Motivational Speaker & Sports Executive; Senior Vice...

Austin Hatch

Two-Time Plane Crash Survivor, Former College Athlet...

Jan Fields

Former President of McDonald's USA & Chairman of the...

Eduardo Briceño

Growth Mindset and Improvement Expert; Co-Founder & ...

Coach Ken Carter

Coach, Author, Educator & Inspiration for the Film "...

Danielle Feinberg

Director of Photography at Pixar Animation Studios; ...

Vince Papale

Former NFL Player & Inspiration for the Movie "Invin...

Shawn Harper

Former NFL Football Player, Successful Businessman &...

Noah Galloway

U.S. Army Veteran, Amputee & Finalist on "Dancing Wi...

Erin Gruwell

Founder & Executive Director of the Freedom Writers ...

Jim Abbott

Former One-Handed Major League Baseball Pitcher

Inky Johnson

Sports Motivation Expert & Author; Former Collegiate...

Doug Lipp

Former Head of Training at Walt Disney University & ...

Andrew Fastow

Former CFO of Enron; Expert Keynote Speaker on Finan...
More like Story