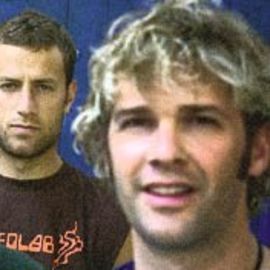 Stroke 9 is a San Francisco-based rock band whose career thus far has followed the indie-rock work ethic to the letter. They formed in high school, released two albums themselves, booked their own national tour, and eventually made so much noise that they got signed.
It's what comes next that will be really interesting: the band's Cherry/Universal debut album, Nasty Little Thoughts, is loaded with 3-to-4-minute harmony-loaded pop-rock songs which are so addictive that stardom seems like a foregone conclusion. The group is a tight and powerful rock band, but wisely never lets anything get in the way of melodies like the ones in "Little Black Backpack," "Letters" or "Washin' and Wonderin'." The album was co-produced by ex-Talking Heads keyboard whiz Jerry Harrison (Live, the Verve Pipe, Kenny Wayne Shepherd) and Rupert Hine (Duncan Sheik, Howard Jones, The Fixx), who gave the band a radio-ready sound without sacrificing any of the energy.
"The first thing with our music is always the song," Luke says. "In high school I was into a lot of English new wave - The Smiths, Love And Rockets, New Order - and then I had a big classic rock phase. I've just always been attracted to melodic music."
Yet what comes across as much as the band's irresistible melodicism is their almost preternatural chemistry, musical and otherwise, which stems from the fact that three out of the four band members have been best friends for a decade. They formed the band in high school - Marin Academy in San Rafael, across the Golden Gate Bridge from San Francisco.
Drummer Eric Stock came on board two years ago. "At first it was kind of weird coming into such a tightly-knit bunch of guys," says Eric, who joined the band shortly after an American tour with Modern English. "But, now I feel like I've know them all my life." "Yeah, we're together all day, every day and we're still best friends," John says. "People tell us that it really comes across when we're playing live."
This band was their high school senior project. "We had a class called 'Rock Band' that we made a six-song tape for at a local guy's studio, and that was our senior project. Yes, we got graded," Luke laughs. "I can't remember what we got - probably a 'See me after class'!" At the very least, it didn't prevent any of them from graduating. All four members went to different colleges, yet each summer they'd "fall back into the band" and recorded their self-released debut album, Boy Meets Girl, during the summer of '93.
Doubtless to the delight of their parents, they decided to do the band full-time after graduation, and in the fall of '95 retreated to the windy hills of Bodega, north of San Francisco. "It's where Alfred Hitchcock's 'The Birds' was filmed, y'know, with that little church on the hill, so it was kinda freaky," Luke says. "But it's a beautiful town where we were completely isolated, so all we did was play music." Out of that summer came their second self-released album, Bumper To Bumper, which has sold over 10,000 copies to date.
The next step, rather ambitiously, was Stroke 9's 1996 North American Tour. They didn't have a hit single, they weren't opening for an established act, and hardly anybody outside of California had heard of them - but they hit the road anyway. "So we bought this book called 'Book Your Own Tour', booked about 50 shows over two or three months, bought an old ambulance and just hit it. It was a blast, but we were naive - nobody had heard of us, so to support ourselves we'd go to malls and ask kids to listen to our album on our Discman. As a result, we'd usually sell between 20 and 25 a day doing that and make like $200."
If nothing else, the tour and the above-mentioned aggressive marketing techniques proved to the band that they were onto something. Their reputation began to spread as they continued to gig heavily throughout their home state. They're also not above the occasional strategic exaggeration. "Technically, we've played with some really big bands!" says John. "There's this little upstairs lounge at the Fillmore that we've played at acoustically while a big band plays in the main room, so you could say we've opened for Tom Petty, the Wallflowers and the Counting Crows!"
Regardless, the hard work paid off and the band inked with Cherry/Universal Records in early '98. "Cherry was there first, they really understand us and know what we're about," says Greg. "It's nice to be with a label that appreciates all the work that we've done ourselves." True to form, the band wrote the new album in a small house not too far from the place in Bodega where they wrote their second album.
In case you hadn't already noticed, yes, Stroke 9 is the band from the recent Ron Howard-directed film, "EdTV." "They had originally wanted a punk band for that scene," says Greg, "but they saw us and dug us, so we wrote a very aggressive song and got into the film."
Nasty Little Thoughts sounds like a hit album all the way through, and the first single, "Little Black Backpack" sounds like a summer smash. Stroke 9 is well-poised to reap the rewards that the past decade of dedication and hard work has earned them.