Stuart's Bio Stuart's start (in the beginning)
Stuart believes that "life is all about choices", however, he didn't choose to be born premature weighing a mere 3lbs, nor did he choose his home for his first two months of life, as he struggled to survive in Mount Sinai Hospital on Miami Beach. As his body weight fluctuated, he finally gained the additional weight needed(two more pounds now weighing 5lbs.). He was discharged from the hospital, and now under the loving care of his family. Throughout his life, from adolescence to adulthood, he would continue to face life challenges with the same courage and convictions. On some occasions he made difficult choices, which helped him to avoid gang violence, drugs, and juvenile crime. In spite of peer pressure, Stuart fought to survive just as he had fought during his birth. Stuart candidly shares some of the many choices he has made, that have affected the rest of his life. These stories will also impact your life, as he guides you from where you are, to where you desire to be, so you can live a "purpose driven life".
Stuart's Professional Experience
Stuart is a leading "experienced" authority in recognizing and inspiring human potential. Stuart's professional experience includes over 20 years with the State of Florida and the United States District Courts as a State and Federal Investigator. His brilliant career includes over 12,000 one on one interviews in jails or prisons, addressing over 18,000 defendants in court/judicial settings, assigned over 2,000 criminal cases, attending over 1,000 bond hearings(initial court hearing) from beginning to end, taking thousands of post crime scene photos, investigating/visiting 100s of post crime scene settings, interviewing thousands of family members or potential witnesses in the field, and testifying in numerous cases in State and Federal Courts
Mr. Speaker
Stuart A. Sands is a dynamic professional speaker, author, and consultant, who spreads optimism and enthusiasm where ever he goes. Known for his high energy presentations, he can captivate any audience. Those who experience Stuart leave motivated by his inspiring stories, refreshed by his charismatic personality and warmth, and empowered to face their personal challenges. His genuine care and concern for youth and humanity is evident in his compassionate delivery, that empowers people to discover who they really are. Stuart is a certified and award winning speaker with the world's leader in communication and leadership development. Stuart has given motivational address nationally.
Giving Back
Some of Stuart's past civic involvement includes: the Miami Dade 5000 Role Models, 100 Black Men of South Florida, Red Ribbon, Career Day, D.A.R.E., American Red Cross Disaster Volunteer, Special Olympics(North Miami Beach & Hialeah), Big Brothers of Greater Miami(Big Brother, Task Force & Radiothon), Eta Phi Beta Sorority, Parent Co-Chair person(bee-ettes), Habitat for Homes, Metro Teen Court, Facilitator(Koinonia Worship Center, Distinguish Gentlemen Boy's Ministry), Director Youth Speaking Ministry, Koinonia Worship Center, Y. M. C.A.(fundraiser & volunteer), President & Vice President –Lake Stevens Elementary P.T.A., and Principal of the Year Selection Committee for Miami Dade Schools (region 1).
Mission / Vision To empower people to see beyond their self imposed limitations and broaden their vision for their lives in spite of who they are and what challenges they have faced. To help humanity to realize they were BORN with a PURPOSE
Videos
---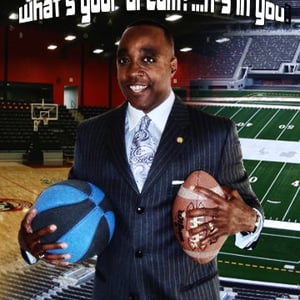 Speech Topics
---
What's your Dream: It's in You
Stuart highlights the success of celebrated Americans, while incorporating sports, peer pressure, and some of the potential obstacles in life(teen pregnancy, juvenile crime, etc...). He reminds his listeners that "life is all about choices". That everyone has to take control of their life(their destiny), and not allow anyone else to lead them. Stuart inspires them to believe that it won't be easy, but they can do it. He also affirms that " the journey of a thousand miles, begins with one step" You have to get started, to reach your DREAMS.(teens/adults)
You are a Diamond: Now go Shine
Stuart takes the classic " Acres of Diamonds " and adds his own twist, that takes you from the struggles of identifying talents, and focusing on your own unique abilities. During this roller coaster ride, you're guaranteed to be inspired as he parallels the conception(or development) of a diamond to the growth of a baby in the womb. Stuart reminds us that just as no two diamonds are the same, no one is like YOU! (teens/adults)
Related Speakers View all
---
Clayton King

Pastor and Founder & President of Crossroads Ministries

Pat Williams

Motivational Speaker & Sports Executive; Senior Vice...

Erik Wahl

Internationally Recognized Graffiti Artist, Entrepre...

Jim Morris

Known for His Brief MLB Career & Subject of Disney's...

Dave Dravecky

Former Professional Baseball Player; Cancer Survivor...

Coach Ken Carter

Coach, Author, Educator & Inspiration for the Film "...

Benjamin Zander

Conductor, Teacher, Speaker on The Art of Possibility

Neal Petersen

History-Making Extreme Adventurer, Award-Winning Aut...

Dan Buettner

National Geographic Writer, Renowned Explorer and Au...

Heath Calhoun

Alpine Skier & Veteran of the United States Army

Charlie Alejandro

Motivational Speaker, Writer, Actress & Radio Talk S...

Mr. Mojo

Founder of MojoUP! Anti-Bullying Advocate and Coach

Susan L. Taylor

Founder & CEO, National CARES Mentoring Movement & E...

Afterburner

US Fighter Pilots & Team-Building Experts

Hyrum Smith

Vice Chairman of the Board of Franklin Covey

Rachel Simmons

Bullying and Leadership Expert

Kathy Ireland

CEO & Chief Lifestyle Designer of Kathy Ireland Worl...

Roger Crawford

Athlete & Motivator

Kristie Kennedy

Women's Worth and Wellness Expert

Tony Doland

"One of the up and coming communicators of this gene...
More like Stuart