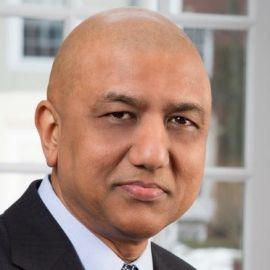 Sunil Gupta
Head of Marketing Department at Harvard Business School; Expert on Digital Marketing Strategy
Sunil Gupta is the Edward W. Carter Professor of Business Administration and Head of the Marketing Department at Harvard Business School. He currently teaches an elective course on Digital Marketing Strategy. In the past, he has taught the required marketing course to first-year MBA students and Advanced Management Program to senior managers.
Gupta's research interests are in the areas of digital marketing, customer management, pricing, and return on marketing investment. His articles in these areas have won several awards including the 1993, 2002, and 2009 O'Dell Award and the 1998 and 2005 Paul Green Award of the Journal of Marketing Research for the most significant contribution in the field of marketing; the 1998, 2000 and 2003 Marketing Science Institute award for the best paper; the 2004 best paper award for the Journal of Interactive Marketing and the 1999 best paper award for the International Journal of Research in Marketing. Sunil is an area editor for the Journal of Marketing Research and an editorial board member of five major journals.
Gupta is co-author of two books. His book, "Managing Customers as Investments," was published by the Wharton School Publishing in February 2005. It was selected as the 2006 winner of the annual Berry-AMA book prize for the best book in marketing. In April 2006, this book was also chosen as one of the Top 30 Business Books of the Year by Soundview Executive Book Summaries.
Gupta has conducted seminars and consulted with several companies in the US, Canada, Europe, and Asia. As a business expert, he has frequently appeared on several national and international television programs, such as CNN and BBC, and has been quoted in the press. He is a member of the analytical advisory board of Information Resources Inc.
Prior to joining Harvard, Gupta was the Meyer Feldberg Professor of Business at Columbia Business School where he taught for 16 years. He was also an Assistant Professor at UCLA, a visiting scholar at Duke University, and the Thomas Henry Carroll Ford Foundation Visiting Professor at Harvard Business School. In 1996, Sunil spent his sabbatical with McKinsey & Co. In 1999, Sunil was selected as the best core course teacher at Columbia Business School.
Sunil holds a bachelor's degree in mechanical engineering from the Indian Institute of Technology, an MBA from the Indian Institute of Management, and a Ph.D. from Columbia University.
Videos
--- Related Speakers View all
---
Erik Qualman

Top Digital Transformation Expert, Futurist & Bestse...

Mike Walsh

CEO of Tomorrow; Global Nomad & Futurist; Bestsellin...

John A. Deighton

Harold M. Brierley Professor of Business Administration

Thomas R. Eisenmann

Howard H. Stevenson Professor of Business Administra...

V. Kasturi Rangan

Malcolm P. McNair Professor of Marketing

Rajiv Lal

Stanley Roth, Sr. Professor of Retailing Chair, Gene...

Stephen P. Kaufman

Senior Lecturer of Business Administration

Dennis Campbell

Associate Professor of Business Administration

Youngme Moon

Professor of Business Administration & Senior Asso...

Debbie Levitt

Entrepreneur, Speaker, and Author on eCommerce, Mark...

Brian Solis

Digital Analyst, Futurist & Author of "What's the Fu...

Jack Shaw

Corporate Financial Executive, Software Company Exec...

Tiffani Bova

Growth and Innovation Evangelist for Salesforce, Sal...

John Rossman

Former Amazon Executive, Author & Expert on Digital ...

Alan D. MacCormack

MBA Class of 1949 Adjunct Professor of Business Admi...

Elie Ofek

T.J. Dermot Dunphy Professor of Business Administration

Karim R. Lakhani

Professor of Business Administration at Harvard

Das Narayandas

James J. Hill Professor of Business Administration S...

David E. Bell

George M. Moffett Professor of Agriculture and Business

Stefan H. Thomke

William Barclay Harding Professor of Business Admini...
More like Sunil