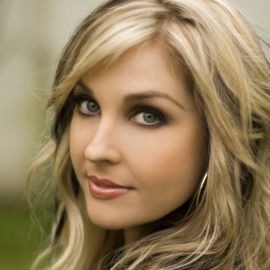 Sunny Sweeney was born in Houston, Texas. Initially, Sweeney lived in Austin, TX and went to Southwest Texas State University. She moved to New York City to take a break from school. Once ready to face school again, she returned to Texas and got a degree in Public Relations from SWT.
After college, she started a band and played local bars in Austin and began to branch out and play around Texas. She put out her first album with the production help of Tommy Detamore in March 2006. After gaining a following on the club circuit in her native Texas, Sweeney signed to the independent Big Machine Records label. She also toured throughout Europe in 2007. Her debut album, Heartbreaker's Hall of Fame, was initially self-released in March 2006, and was reissued in March 2007 on Big Machine. The album was pushed to the Texas Music Chart and produced three regional singles in the songs, "If I Could," "Ten Years Pass" and "East Texas Pines".
In 2009, Sweeney was signed as the first artist to Republic Nashville, a newly founded joint venture between Big Machine and Universal Republic Records. Her first single for the label is "From a Table Away," which was released on June 28, 2010. It became her first chart single when it debuted at No. 58 on the U.S. Billboard Hot Country Songs chart for the week of June 26, 2010. In March 2011, the song entered the Top 10 of the chart.
Republic Nashville released Sweeney's second studio album, Concrete on August 23, 2011. The album was produced by Brett Beavers consists of ten tracks, including one co-written with Radney Foster and Jay Clementi. "Staying's Worse Than Leaving" and "Drink Myself Single" were released as the album's second and third singles, respectively, and both were minor Top 40 hits on the Hot Country Songs chart. Sweeney and Big Machine parted ways in 2012.
In 2013, Sunny Sweeney signed a new record deal with Thirty Tigers.
Videos
---