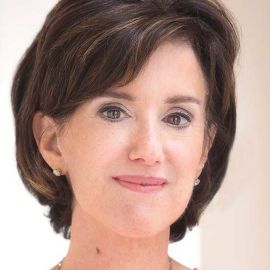 Susan Packard is the co-founder of Scripps Networks Interactive (NYSE: SNI) and former Chief Operating Officer of HGTV. She was the 2nd employee of SNI and helped to build the company to a market value of over $10 billion.
SNI's media portfolio includes popular lifestyle television brands HGTV, Food Network, DIY Network, Cooking Channel, country music network Great American Country (GAC) and the Travel Channel. Packard held a variety of senior positions during her tenure at SNI. In addition to being COO of HGTV, she created and served as president of Scripps Networks New Ventures, where she oversaw the development and launch of DIY Network, and online interactive platforms. She was also president of worldwide distribution for the Scripps cable brands.
She has been recognized by industry peers, colleagues and employees as an innovator, role model, and mentor. She received the Woman of the Year award by Women in Cable & Telecommunications (WICT) and was profiled in Modern Visionaries, a book chronicling the contributions of women to the cable and telecommunications industry. CableWorld magazine honored her among "The Most Influential Women in Cable" numerous times. In 2008 she was inducted into the Cable Hall of Fame.
Packard was the first woman elected to serve on the board of directors of Churchill Downs, Inc., the owner and manager of the Kentucky Derby and other horseracing properties. In that capacity, she served on the Audit, Strategic Planning, and CEO Succession Committees.
She is an active speaker at global business forums and at universities such as UCLA, Fordham, and the Darden Business School at the University of Virginia. In February 2015, she spoke at Stanford Business School as part of SBS Executive Breakfast Briefings. She gave a TEDx talk at UCLA, available for viewing at YouTube.
Packard's book, Fully Human, Three Steps to Grow Your Emotional Fitness for Work, Leadership and Life was published in 2019. The book offers a fresh, new framework for growing one's emotional intelligence. She also wrote New Rules of the Game, published in 2015, to help women navigate their workplaces successfully.
Videos
---
Speech Topics
---
Advancement Through Gamesmanship
How do employees reach that next level in their career? Baseline talent gets everyone in the game. Then people begin to compete for advancement and factors such as likeability and trust influence who is promoted into senior roles. Susan Packard, co-founder of HGTV, lays out an approach to help your employees succeed called gamesmanship-a strategic way of thinking, as well as a language of business to help people advance. We are taught that 'winning' at work means collaboration and perfecting what we do. But these two drivers are not always the best way to move forward. Through a dynamic and down-to-earth approach, Packard lays out the rules of gamesmanship, based on her upcoming book, New Rules of the Game, and illustrates how employees can better compete for promotions and plum assignments by speaking an alternative language, as well as how they can handle the many stresses that come with being in the workplace.
Now What? Creativity, Innovation and Turning Ideas into Icons
So you have a great, innovative idea that is without peer in the marketplace—how does that become a great business worth over $7 billion such as HGTV? Packard shares with the audience her experiences and the lessons learned in growing a multi-billion dollar business which today includes cable networks, books, DVDs, interactive properties and a family of trusted television personalities. A leader who inspired those around her to push the boundaries in innovating products to achieve business success, Packard shares the leadership skills necessary to incubate—and execute—game changing ideas.
How Culture Impacts Employee Engagement: Timeless Lessons on Talent
Two of today's toughest challenges are recruiting and retaining the best talent. Learn how a $7 billion business did it from the ground up, and how these lessons can apply to you. HGTV co-founder Susan Packard will cover critical areas such as team structure, having a sense of mission, and how small, inexpensive things can impact loyalty and workplace excellence. Having the right people in the right jobs with the right amount of motivation is crucial to any successful organization and Packard shares what employers must do to create a workplace that can become the envy of any industry.
The Leader Within: Growing Your Leadership Team
What do leaders need today to excel? Hear from HGTV's co-founder, Susan Packard, as she shares leadership lessons from businesses she has helped to build, and from the leadership work she is doing today. She will discuss how vision, audacity, and relentless focus are some of the key factors that make great leaders today. She will also share some unusual insights and stories about diversity as a business practice today.
Move Fast, Think Big: Building a Brand Leader
HGTV took a big idea - a cable television network devoted to all things home - into a marketplace dominated by media giants and emerged the leader. Now launched in more than 98 million homes, HGTV changed how we envision our homes and, in the process, established a new model for business innovation and success. Packard shares with audiences strategies for forging and promoting a brand while gaining customers who'll remain loyal to it, and provides ideas for expanding into other channels and platforms to secure even greater market share while maintaining brand integrity.
Related Speakers View all
---
Randi Zuckerberg

CEO & Founder of Zuckerberg Media; Bestselling Autho...

Sallie Krawcheck

Founder & CEO of Ellevest; Author of "Own It: The Po...

Carly Fiorina

Businesswoman, First Woman to Lead a Fortune Top 20 ...

Barbara Corcoran

Real Estate Entrepreneur, Angel Investor, Author & C...

Marissa Orr

Leadership Speaker; Former Marketer at Google & Face...

Dr. Jackie Freiberg

Corporate Culture & Leadership Strategist, Best-Sell...

Marilyn Tam

Best-Selling Author, Consultant, Board Certified Exe...

Fran Hauser

Media Executive, Startup Investor & Best-Selling Aut...

Maddy Dychtwald

Co-Founder & Senior VP of Age Wave, Author & Changin...

Jennifer Hyman

Co-Founder & CEO of Rent the Runway; Award-Winning E...

Sheila C. Johnson

Entrepreneur, CEO of Salamander Hotels and Resorts, ...

Carey Lohrenz

First Female F-14 Fighter Pilot in the U.S. Navy, T...

Meridith Elliott Powell

Founder and Owner of MotionFirst; Certified Coach, S...

Sara Blakely

Founder & CEO of SPANX

Mark C. Thompson

Executive Coach & Author

Libby Gill

Leadership Expert, Executive Coach & Award-Winning A...

Dr. Kevin Freiberg

World-Wide Best-Selling Author, Speaker & Advisor

Beth Comstock

Former Vice Chair of General Electric

Cheryl Bachelder

Former CEO of Popeyes Louisiana Kitchen, Inc. & Aut...

Liz Wiseman

President of The Wiseman Group & Bestselling Author ...
More like Susan