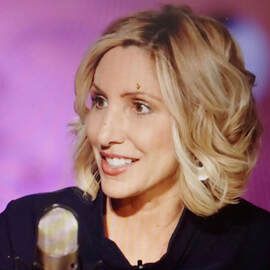 Susan Schneider
NASA-Baruch Blumberg Chair at the Library of Congress , Philosopher, Cognitive Scientist & Author of "Artificial You: AI and the Future of the Mind"
Schneider is the NASA-Baruch Blumberg Chair at the Library of Congress and the author of the new book, Artificial You: AI and the Future of the Mind, where she discusses the social implications of AI. As a philosopher and cognitive scientist, she looks at the big picture: whether AI will reshape the human mind, whether we can really create AIs that rival or surpass human intelligence, and what all this tells us about the nature of consciousness and the self. As the NASA chair, she ties these issues in with big questions in astrobiology, asking whether civilizations throughout the universe develop AI and even become "postbiological." Her work in philosophy of AI has now taken her to the Hill, where she meets with members of Congress on AI policy on a range of topics, such as data privacy, algorithmic bias, technological unemployment, autonomous weapons, and more. Schneider appears frequently on television shows on stations such as PBS, BBC, Fox, National Geographic and The History Channel, as well as keynoting AI ethics conferences at places such as Harvard and Cambridge. She also writes opinion pieces on AI for the New York Times, Scientific American and The Financial Times. Her work has been widely discussed in the media, at venues like The New York Times, Science, Big Think, Nautilus, Discover and Smithsonian.
Videos
---
Related Speakers View all
---
Liza Lichtinger

CEO of Future Design Station & Director at AI Founda...

Alex Salkever

Futurist, Author of "The Driver in the Driverless Ca...

Ayesha Khanna

The Leading Expert on Our Intelligent Future

Ben Pring

Widely Acknowledged IT Futurist & Thought Leader; Co...

Jana Eggers

CEO of NaraLogics; Innovation & AI Expert

Lloyd Danzig

Chairman & Founder of ICED(AI)

Babak Hodjat

Co-Founder and CTO Sentient Technologies

Jenny Dearborn

Thought-Leader, Best-Selling Author & One of the 50 ...

Nita Farahany

Leading Scholar on the Implications of Biosciences &...

R "Ray" Wang

Founder, Chairman & Principal Analyst at Constellati...

Ray Kurzweil

Chairman of Kurzweil Technologies; Inventor; Futurist

Linda Bernardi

AI Strategist, Technologist, Entrepreneur & Innovator

Mariya Yao

Founder of TOPBOTS & Author of "Applied AI: A Handbo...

Huma Abidi

Engineering Director of the Artificial Intelligence ...

Jaime Casap

Former Chief Education Evangelist at Google

Tanmay Bakshi

Algorithmist, Neural Network Architect & Author

Peter Haas

Associate Director of the Brown University Humanity ...

Beena Ammanath

Executive Director of Deloitte AI Institute & Founde...

Kathy Sierra

American Programming Instructor and Game Developer; ...

Rajendra Pratap Gupta

Policy Maker, Researcher, Author, TED Speaker, Econo...
More like Susan