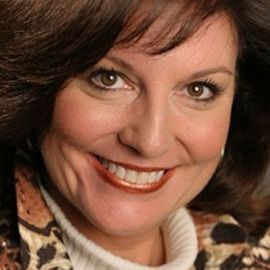 Susan Wilson Solovic
A woman of many talents, Susan Wilson Solovic is an award-winning entrepreneur, a CEO, a journalist, bestselling author, multi-media personality, and attorney.
A woman of many talents, Susan Wilson Solovic is an award-winning entrepreneur, a CEO, a journalist, bestselling author, multi-media personality, and attorney. But behind every achievement, Solovic embodies ideas that make her universally—and intimately—relatable to all entrepreneurs: hard work, fortitude, and persistence. In a world of quick and questionable viral fame, Solovic is a rare commodity: she is what she preaches.
Raised in rural Missouri by entrepreneurial parents, Solovic learned early the meaning and value of becoming one's own boss. At the age of 15, when most adolescents are preoccupied with growing up, Solovic had already started her own business giving baton-twirling lessons. She would go on to be the first in her family to graduate from law school—made possible by working full time. But later on, feeling that law was not her ultimate calling, Solovic tapped into her entrepreneurial spirit by building a company from the ground up. As CEO and co-founder of ItsYourBiz.com (formerly SBTV.com), Solovic led the company from a concept to a multi-million dollar, award-winning enterprise. In 2006, Solovic accepted the Stevie Award on behalf of ItsYourBiz.com for the Most Innovative Company under 100 employees; that same year, ItsYourBiz.com was voted the Best Investment Opportunity presenting to a Venture Forum event in the Silicon Valley.
Solovic is also a sought-after keynote speaker, as well as a small-business contributor for ABC News. She appears frequently on Fox Business News, Good Day New York, MSNBC, WABC, WCBS, and many other stations across the country. In 2011, Solovic launched a nationally syndicated radio show, It's Your Biz with Susan Solovic, during which she invites leading entrepreneurial experts from across the country to share their unique perspectives on the world of small business. In conjunction with PBS, she created a feature program called Reinvent Yourself Now: Become Self-Reliant in an Unpredictable World. In addition to television and radio appearances, Solovic is a featured blogger on numerous sites, including Huffington Post, AllBusiness.com, Constant Contact, WSJ.com, U.S. Small Business Administration, and Fast Company.
Solovic has written three bestselling books: The Girls' Guide to Power and Success; Reinvent Your Career: Attain the Success You Desire and Deserve and The Girls' Guide to Building a Million-Dollar Business. A fervent activist for women entrepreneurs, she is a Vice President of the Board of Directors of WIPP, Women Impacting Public Policy. In 2009, Solovic received the Institute for Women's Entrepreneurship Leader of Distinction Award, and in 2008 she was the first recipient of AT&T's Innovator of the Year Award for being a pioneer in a new industry.
Solovic also currently serves on the advisory board for the John Cook School of Business Entrepreneurial Studies at Saint Louis University, one of the top-rated entrepreneurial schools in the United States. Previously, she served on the National Women's Business Council, which counsels the President, Congress, and the SBA on issues affecting women business owners. She is also a past member of the Women's Leadership Board at Harvard University. And somehow she still finds time for hobbies: Solovic is an avid cook and pianist, and believes in living a healthy lifestyle. She has a passion for meeting and learning about new people and making a positive impact on their lives—that is her raison d'être. Having reinvented herself time and time again--while still holding on to core principles--she is an archetype of the entrepreneurial spirit, which affords her a unique vantage point from which to share information and insight with business owners around the world.
Related Speakers View all
---
Ariane de Bonvoisin

Founder and CEO of First30Days.com & Author, "The Fi...

Dr. Molly Barrow

Well-Known Relationship Expert and Author; Licensed ...

Kathleen Wood

Entrepreneur, speaker, author and expert in leadersh...

Kathy Peel

Founder and President of Family Manager Inc.

Suze Orman

Expert Financial Advisor, Former Host of "The Suze O...

Jovi Brown

Authority on leadership, motivation, communication

Sierra Bender

Empowerment Coach and Visionary Healer for the Mind,...

Vasavi Kumar

"Freedom Strategist," Indian Woman Living with Bipol...

Nancy T. Nguyen

Hit-and-Run Survivor; Crowned 2011 Miss Corporate Am...

Sheila C. Johnson

Entrepreneur, CEO of Salamander Hotels and Resorts, ...

Cheryl Cran

Future of Work & Change Leadership Expert; Author of...

Val McLeod

Inspirational Influencer and Empowerment Speaker and...

Iris Krasnow

Best-Selling Author & Relationship Expert

Hoda Kotb

Broadcast Journalist, Television Personality, Author...

Sara Blakely

Founder & CEO of SPANX

Kate White

Former Editor-In-Chief of Cosmopolitan Magazine; New...

Jean Bailey Robor

Jean Bailey Robor, award-winning author and inspirat...

Carolyn Kepcher

CEO of Carolyn & Co; Former Co-Star of NBC's "The Ap...

Tana Goertz

Senior White House Advisor for President Donald Trump

Libby Gill

Leadership Expert, Executive Coach & Award-Winning A...
More like Susan