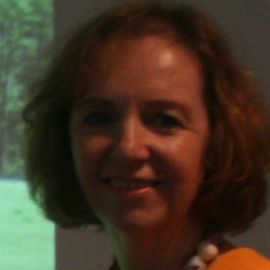 Suzaan Boettger
Dynamic analysis and striking images of artists' responses to environmental threats by an art historian/critic who enjoys precise thinking/writing and energetic lecturing
As an art historian/critic, my research in recent years has evolved from spatially environmental art to that which is socially environmental or environmentalist. That parallels my own concern about environmental degradation consequent to humans' impact on ecological systems and inequities ensuing from the monetization of nature. So my research derives from both intellectual interests and values/beliefs, which serve as stimulating and sustaining forces in producing a complex project and conveying it to the public.
A native of Berkeley, California, I was shaped by the region's receptivity to innovation and social tolerance, as well as its proximity to disparate ecozones. After UC Berkeley and a few years as an active critic representing northern California for Artforum, et. al, I came to graduate school in NYC to answer my questions about the sources and meanings of earthworks. The ensuing book was described in the NY Times Book Review as "the definitive history."
I am dedicated to contributing to urgent social terrains by attending to artists' address of environmental threats and analyzing for the art audience new ways their engagements grapple with urgent life/world challenges.
Speech Topics
---
Eco Art; Ecological Art, Environmental Art, Photography about the Environment; artists' and photographers' response to and visualization of the Anthropocene