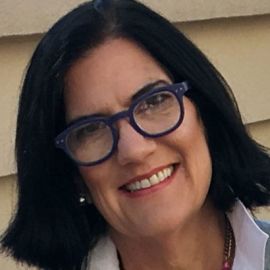 Suzi Nance is an Author, Hypnotherapist, Speaker, Founder of Newport Center for Hypnotherapy and Hypnosis Training.
Along with a robust private practice, Suzi travels the country working with corporations, hospitals and organizations as well as families and individuals to help them identify and break through barriers that have been holding them back and help get where they want and can be.
Some of her greatest professional satisfaction comes from her work facilitating wellness retreats with wounded veterans and their caregivers.
With Advanced Certification in Pain Management, Suzi has become a trusted resource for hospitals and doctors. Working with their patients, running ongoing groups for Stress Management and as a frequently invited guest speaker.
Motivated by not only the vast numbers of people she has helped to transform their health and bodies, but also by her own journey of losing over 100lbs and reclaiming her health, Suzi has written her first book, "Break Free" on the shelves Spring 2019.
Videos
---
Speech Topics
---
CORPORATE WELLNESS
Newport Center for Hypnotherapy hosts personalized, on-site corporate wellness programs that help your staff make lasting, positive lifestyle changes. And when your employees are genuinely happy and healthy, you, in turn, enjoy:
Higher retention rates Greater employee loyalty Increased revenues Decreased expenses
Depending on your needs, Newport Center for Hypnotherapy can present several types of interactive workshops or hypnotherapy sessions. Popular options include:
Stress Busters You may think stress is just a normal part of office life, but it doesn't have to be. Stress can have a significant impact on employee productivity, engagement, and overall health. In an empowering workshop, your employees will learn how to use their subconscious minds to manage and decrease stress.
Quit Smoking Smokers cost their employers an average of almost $6,000 per year, per smoker. That money is lost in absenteeism, reduced productivity, smoke breaks, and health care costs. Hypnotherapy will help your nicotine-addicted workers reprogram their brains and finally kick their habit.
Healthy Living For every BMI point an employee is above normal weight, you're paying $194-$222 per year, per person. Poor food and exercise choices decrease productivity, increase health care costs, and spawn psychological issues. Whether your staff needs motivation, or to turn off years of negative thought patterns, hypnotherapy can be transformational.
Related Speakers View all
---
Tami Evans

Employee Engagement & Levity Leadership Expert

Shawn Rene Zimmerman

Professional Fitness Model and Celebrity Trainer

Laura Stack

Productivity & Time Management Expert

Super Star

Sought after Motivational Speaker, Recording Artist,...

Hutke Fields

Principal Chief of Uvcenv Cunv Uvsel at Natchez Nati...

Brian D'Ambrosio

Brian D'Ambrosio and inspiring road trips throughout...

Barry Reitman

Fast-paced, fun-filled memory improvement.

Katie Schmatz

Ohh the Possibilities...

Greg Montana

The Quantum Monk will inspire your audience to tears...

Jennifer Buchanan

Jennifer is the founder of JB Music Therapy – an awa...

Rhonda Scharf

Well-Recognized Professional Speaker, Trainer, Consu...

Linda Villatore

Award Winning Trainer

Judith Belmont

Personal Development and Wellness speaker,self-help ...

Rita Young Allen

Award-winning Soloist, Teacher

Mary LoVerde

International Work-Life Balance Expert

Vicki Hitzges

Work Environment Expert & Author

Eric Gnezda

Singer, Songwriter, Educator, Author, TV Producer & ...

AlyOsha

Inspirational Speaker and Leader

Cherise Bopape

Author, Freelance Writer

Nathan Ellis

Motivational speaker for diverse employee groups and...
More like Suzi