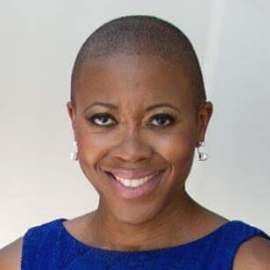 Tabitha Christopher
Entrepreneur & Mindstyle Makeover Coach
Tabitha has worked as a Certified Health Coach in building training and lifestyle programs for High Rank Military Personnel, Athletes, CEOs, and Hollywood elites for over 17 years. In her previous role as an Award Winning Trainer she went the extra mile in customizing health programs that would not only transform the body, but would heal and transform the inner workings of her clients Mental, Emotional, and Spiritual Health allowing them to thrive-- - in their leadership roles on and off the field, at work, and at home.
After closing her training business, Tabitha established the 'MINDstyle MAKEOVER Method' a consulting company providing healthy mindstyle and lifestyle solutions to everyday trailblazers. Presently, Tabitha travels the United States speaking to various organizations and provides 1:1 consultative services to clients around the world.
Videos
---
Speech Topics
---
Power of Your Personal Story | Living Your Purpose | Overcoming Obstacles | Importance of Forgiveness | School + Cyber Bullying | Suicide Prevention | Family+Community
Related Speakers View all
---
Mack Dryden

Clean Stand-Up Comedian & Emcee

Tom Coverly

Comedian, Illusionist, and Emcee

James H. Poindexter III.CC

World Champion Martial Artist, Motivational Speaker,...

Paula McDade

Women's Empowerment & Leadership Speaker, Bestsellin...

Teena Jain

Teena Jain is the founder of Depression-Guide.com an...

Brandon Farbstein

Dwarfism Activist, Author & Motivational Speaker.

David Hyner

Professional Speaker, "The Massive Goal Principle"

Judy Carter

Master Teacher, Author, and Humorous Speaker

Jeff Allen

Stand-up Christian Comedian; Marriage Motivator

Anne Moss Rogers

Mental Health & Suicide Prevention Speaker

Scotty B

Owner, Fired Up! Entertainment; Sports Entertainment...

Tom Nash

Keynote Speaker, Storyteller & DJ

Galen Emanuele

Leadership Expert, Emcee, Philanthropist & Improvisor

Jay Jay

The King Of Deception, Facilitator, MC & Entertainer

James H. Pogue, Ph.D

CEO of JP Enterprises, Designer of the Diversity, In...

Jamie MoCrazy

Motivational Storyteller

Sonja Crosby

Actor, Voice Talent, Model, Host, Entrepreneur, Emce...

Todd Starnes

Host of "Starnes Country" on Fox Nation & the "Todd ...

Kat Robinson

Host of PBS's "Make Room For Pie," Food Writer & Rec...

Sonia Talati

Family Legacy Coach, Television Personality, Writer,...
More like Tabitha