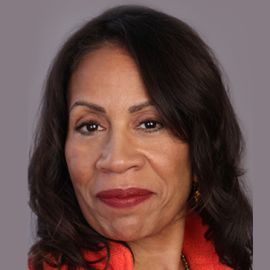 Taina Bien-Aimé may have hit the trifecta when it comes to being a minority in an old boys' club: She's a gay, black, female crusader for social justice and women's rights who launched her legal career from the confines of a Wall Street firm. Unexpected as this sounds, it was all part of her plan to understand power structures at their root and upend them. Once she became a mother, her passions didn't change, but her job trajectory did — and while the challenges to her work-life equation still exist and the financial compromise is real, she wouldn't have it any other way.
Bien-Aimé has dedicated her career to ending violence and discrimination against women and girls around the world. She was one of the founding board members of Equality Now, an international human rights organization, and later served as its Executive Director for a decade. As the Executive Director of the Coalition Against Trafficking in Women, Bien-Aimé continues to advocate for the right of each individual to enjoy the full spectrum of fundamental human rights. She also serves on the boards of the New York Women's Foundation and New York City's Commission on Gender Equity. Bien-Aimé's work on gender justice has informed her perspective on human trafficking and sexual exploitation.
Bien-Aimé holds a Juris Doctor from NYU School of Law and a Licence in Political Science from the University of Geneva/Graduate School of International Studies in Switzerland. Bien-Aimé has extensive media experience and is a contributor to the Huffington Post.
Videos
---