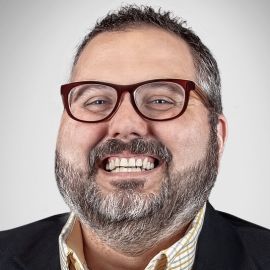 Dr. Tait Martin is a speaker, teacher, and the Chief Research Officer and a Managing Partner of The Taproot Agency, a behavior-change marketing firm in Tallahassee, Florida.
As Chief Research Officer, Tait heads Taproot's insight, strategy and social marketing division. He leads an international network of researchers that helps clients focus their outreach messages, build stronger relationships and develop programs that better define the way they reach the people who matter to them.  In addition, Tait is an Affiliate Professor of Social Marketing and Research in the Department of Family and Community Health at the University of South Florida and he is on faculty at the Florida Prevention Research Center. Tait also holds an International Academic Colleague position in the Research Center for Health, Environment and Education at the University of Cologne in Cologne, Germany.  
A winner of some of the industry's most prestigious awards (including the Emmy®, Silver Anvil® and Gold Addy®), Tait's two decades as a research, communication and marketing professional have included stints as vice president of national social marketing and advertising firm; faculty member at four top-tier higher education institutions; communication director for one of the largest United Way organizations in the South; spokesperson for a major state government agency in Florida; marketing consultant to several industry and professional organizations; and a morning radio talk show host.
Widely cited in both academic and applied research circles, Tait holds a Ph.D. in Communication Theory and Research (emphasis in persuasion and cognitive processing) from Florida State University, as well as a Masters in Organizational and Interpersonal Communication from the University of Louisiana. His undergraduate degree in public relations is from Northwestern State University.
To date, Tait has conducted hundreds of projects and presentations about research, social marketing, organizational development and communication to clients ranging from international corporations and local nonprofit organizations to government agencies and higher education institutions. Specifically, his work focuses on health, entrepreneurship, education, safety, environmental sustainability, and human behavior change.
Tait is from Cut Off, Louisiana...yes, it's a real place.
Related Speakers View all
---
Marty Stratton

Entrepreneur Spirited Speaker; Driven for Your Success!

Lisa Van Allen

Executive Coach and Spiritual Director to Mission-Dr...

Roberto Alas

Reaching and identifying the potential in every sing...

Pam Moore

CEO & Founder Marketing Nutz, Social Business Strate...

Gillian Muessig

Thought Leader in Global Entrepreneurship

David Nour

Social Networking Strategist

Micah Solomon

Customer Service & Experience Consultant

Nicholas de Wolff

Digital Media & Brand Strategy Wonk | Economic & Soc...

Candace Reese

The CEO Pundit: Empowerment Speaker, Inspirational C...

Michelle Courtney Berry

Breakthrough Expert, Founder and CEO of LifeFlowPlan...

Ron Broussard

STRETCHYOURSELF

Jay Handler

Speaker, Radio Host & Author of "The 8 M's of Market...

Ron Immink

Business book nerd, entrepreneur, founder of smallbu...

Tim Rooney

Helping Businesses Grow Profitably and Maintain a Wi...

Bernadette Vadurro

Award-Winning Business Woman, Professional Speaker a...

Warren Cass

Social Media Strategist & International Speaker

Kristen Hagopian

Personal Finance Author, Popular Columnist, Consumer...

Ian Stirling

Speaker on Business Growth, Franchising and developi...

Jerry Fletcher

Jerry is the CEO of Z-axis Marketing, Inc.

Jim Carroll

One of the World's Leading Global Futurists, Trends ...
More like Tait