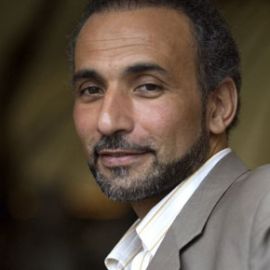 Tariq Ramadan
Professor of Contemporary Islamic Studies in the Faculty of Oriental Studies at Oxford University
Tariq Ramadan is Professor of Contemporary Islamic Studies at the Oxford University (Oriental Institute, St Antony's College) and also teaches at the Oxford Faculty of Theology. He is Visiting Professor at the Faculty of Islamic Studies, (Qatar) and the University of Malaysia Perlis; Senior Research Fellow at Doshisha University (Kyoto, Japan) and Director of the Research Centre of Islamic Legislation and Ethics (CILE) (Doha, Qatar).
He holds an MA in Philosophy and French literature and PhD in Arabic and Islamic Studies from the University of Geneva. In Cairo, Egypt he received one-on-one intensive training in classic Islamic scholarship from Al-Azhar University scholars (ijazat in seven disciplines). Through his writings and lectures Tariq has contributed to the debate on the issues of Muslims in the West and Islamic revival in the Muslim world. He is active at academic and grassroots levels lecturing extensively throughout the world on theology, ethics, social justice, ecology and interfaith as well intercultural dialogue. He is President of the European think tank: European Muslim Network (EMN) in Brussels.
He is a member of the International Union of Muslim Scholars.
Related Speakers View all
---
Muhammad Yunus

Nobel Laureate

Douglas R. Hofstadter

Professor of Cognitive Science; Research Focuses on ...

Malala Yousafzai

Youngest-Ever Nobel Prize Laureate; Pakistani Activi...

Stephen Hawking

English Theoretical Physicist, Cosmologist, Author a...

Peter Sloterdijk

German Philosopher, Cultural Theorist, Television Ho...

Jaron Lanier

Scientist, Musician, Visual Artist & Author of the N...

Matt Ridley

Best selling author of "The Rational Optimist" and "...

Naomi Klein

Award-Winning Journalist, Columnist, and the #1 Inte...

Ernesto Zedillo

President of Mexico (1994-2000)

Dr. Cornel West

Provocative Public Intellectual & Groundbreaking Author

Dr. Laura D'Andrea Tyson

First Female Chairman of White House Council of Econ...

Joseph Stiglitz

American Economist; Professor at Columbia Universit...

Salman Rushdie

British Indian Novelist Known for "Two Years Eight M...

Jeremy Rifkin

Leading Global Technologist, Futurist and Authority ...

Steven Pinker

Professor of Psychology, Harvard University

Amory Lovins

Co-Founder and Chief Scientist of Rocky Mountain Ins...

Rem Koolhaas

Dutch Architect, Architectural Theorist, Urbanist an...

Francis Fukuyama

Global Affairs Thought-leader and Professor; Author ...

Thomas Friedman

Three-Time Pulitzer Prize Winning Commentator, New Y...

Richard Florida

Renowned Economist and Author, The Rise of the Creat...
More like Tariq