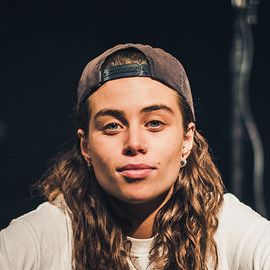 Tash Sultana (short for Natasha Sultana) is an Australian indie musician known for her fiery vocals and command of multiple instruments and looping pedals. Playing multi-layered compositions informed by vintage hard rock and alternative rock with powerful and expressive vocals, she first found the spotlight in 2016 via the Internet with live videos of her one-woman-band performances. Sultana's viral success led to international recognition and the release of her first full-length album in 2018.
Sultana got her first guitar as a preschooler and went on to learn brass, woodwind, and percussion instruments, among others, always eager to learn more. She was busking on the streets of Melbourne by her mid-teens. Open about her battles with addiction at that time, she suffered a drug-induced psychosis at the age of 17. After recovering with the aid of professional help, Sultana started a Bandcamp page and began making videos of her performances and uploading them to YouTube.
In the spring of 2016, when she was 20, a live recording of her song "Jungle" went viral on Facebook, accumulating over a million plays in less than a week. She released the six-track Notion EP that December, which included the guitar-based reggae tune. In the meantime, she accepted invitations to play at music festivals, and in early 2017 Sultana signed with New York's Mom + Pop Music, which gave her debut EP a multi-format release. That year also brought a busy touring schedule, with shows booked across Australia and New Zealand, Europe, the U.S., and Canada. The single "Mystikal" appeared in October 2017. Sultana rounded out her year with four Aria Award nominations, including Breakthrough Artist and Best Blues and Roots Album. "Mystikal" was a preview of Sultana's first full-length album, Flow State, which appeared in September 2018.
Videos
---