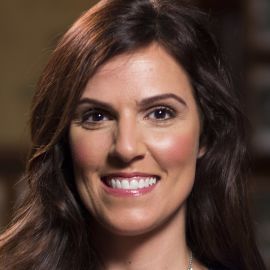 Taya Kyle is the widow of late U.S. Navy SEAL sniper Chris Kyle. The couple's story was portrayed in the Academy Award-winning film American Sniper directed by Clint Eastwood, starring Bradley Cooper as Chris and Sienna Miller as Tara. She is also a New York Times bestselling author.
Kyle is the founder and executive director of Chris Kyle Frog Foundation, which was created after her husband's death. The foundation partners with national organizations, corporations and patriotic citizens to continue Chris Kyle's legacy of serving God, country and family. Kyle's experiences with struggling service members propel her forward, whether they are suicidal, their marriage is ending, they have fallen to addiction, or more.
According to Kyle, the success in military marriages is different than in the civilian world and requires different tools. At Chris Kyle Frog Foundation, Kyle's goal is to change the world by fighting for the marriages of those who fight for us. Her work has had a life changing impact on military and first responder couples and their children. With a team of people behind the mission, CKFF is helping these families not only survive, but thrive throughout their life of service.
In the New York Times Bestselling book "American Wife," Kyle recounts the tremendous highs and lows in her unpredictable life as the wife of an American hero. Her new book, "American Spirit," debuts on April 2nd. Taya and co-author Jim DeFelice profile other Americans whose resilience, courage and faith inspire movements of light in a world full of darkness.
Currently, Kyle resides in Texas with her two children. She is also a public speaker, inspiring others to persevere while articulating the trials and tribulations of love, war, faith and renewal. She has also been a Fox News contributor, audio book narrator, television host, aspiring children's book author and literal soccer mom. She is passionate about freedom, love and service to others.
Speech Topics
---
FAITH, FAMILY AND FREEDOM
Taya Kyle shares her powerful story of love, war, faith and renewal. The theme resonates with more than just service members and patriots. Taya believes every person alive seeks love and faith in something. Every person struggles and fights some sort of battle. Ultimately, we are looking for renewal. Taya's story is about withstanding and persevering even when life brings uncommon and unforeseen circumstances to our door.
THE RIPPLE EFFECT
Utilizing the "Pay it Forward" idea, Taya Kyle believes the Ripple Effect is a powerful thing. One small act of kindness can mean the world to another individual. It can also start a movement, spreading hope from one person to a whole nation.
Recounting the Kyle families' personal experiences, Mrs. Kyle shares the power and impact of taking one step in faith.
Related Speakers View all
---
J.R. Martinez

Actor, Best-Selling Author, Motivational Speaker, Ad...

Elizabeth Smart

Abduction Survivor, News Correspondent & Child Safet...

Marcus Luttrell

Decorated Navy SEAL & Bestselling Author of "Lone Su...

Scott O'Grady

Former U.S. Air Force Captain, Fighter Pilot Who Sur...

Rorke Denver

Navy SEAL Commander & Best-Selling Author

Noah Galloway

U.S. Army Veteran, Amputee & Finalist on "Dancing Wi...

Ginger Zee

Chief Meteorologist for ABC News, Author & Mental He...

Shawn Johnson East

Olympic Gold Medalist in Gymnastics, "Dancing with t...

Carey Lohrenz

First Female F-14 Fighter Pilot in the U.S. Navy, T...

Jocko Willink

Retired Navy SEAL Officer & Author of "Extreme Owner...

Monica Lewinsky

Social Activist; Expert on Cyberbullying, Women's Is...

Danny Trejo

Actor, Activist & Restaurateur

Kyle Carpenter

Retired U.S. Marine, Youngest Living Medal of Honor ...

Amy Robach

Co-Anchor of "20/20" & ABC News Correspondent for "G...

Bethany Hamilton

Professional Surfer & Shark Attack Survivor; Inspira...

Erin Brockovich

Consumer Advocate, Author, TV Host & Environmental A...

Shannon Miller

Olympic Gold Medalist, Health Advocate & Cancer Surv...

Joan Lunden

Award-Winning Journalist, Bestselling Author & Healt...

Chris Gardner

CEO, HappYness; Entrepreneur; International Best-Sel...

Bethenny Frankel

Entrepreneur, Reality TV Star & Bestselling Author; ...
More like Taya