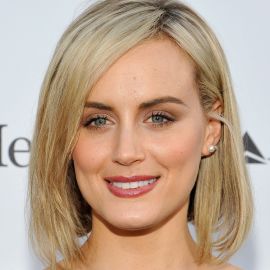 A devoted fan of the NBC medical drama ER during her youth, Taylor Schilling began acting at a young age. She became active in her middle school's theater program when she appeared in a stage production of Fiddler on the Roof. After graduating from Wayland High School in 2002, she attended Fordham University's New York City campus at Lincoln Center, where she continued to take part in stage productions before earning her related Bachelor of Arts degree in 2006. Schilling then entered the prestigious graduate program at New York University to continue her acting studies, but left after her second year to start auditioning.
Eventually, her relentless auditioning paid off when she landed a supporting role in the 2007 independent film "Dark Matter." The role had a starstruck Schilling working alongside an actress whom she greatly admired, Meryl Streep.
Schilling really got her chance to shine when she was picked to star in the 2009 NBC medical drama "Mercy". In the lead as Nurse Veronica Callahan, Schilling's character is a tough-as-nails Iraq War veteran and former military nurse-turned-medical practitioner. Though she read for the part via video tape from New York City, show creator and executive producer Liz Heldens and her husband were so impressed by Schilling's reading that they flew her out to Los Angeles to audition for the role. In Heldens' words, "she just blew the doors off the audition". Prior to this experience, Schilling had only one screen credit to her name. The series lasted one season but gave Schilling exposure and helped her to land two important roles.
She played the female lead, opposite Zac Efron, in the film "The Lucky One." The film was based on the Nicholas Sparks novel of the same name. In 2012, Schilling was cast as the lead character in the Netflix original series "Orange is the New Black," based on the Piper Kerman memoir. The show was cultural phenomenon when it premiered in July of 2013. Season two arrives in June 2014 and the show has already been renewed for a third season.
Videos
---