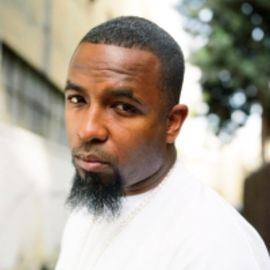 Tech N9ne is known for his wide range of collaborations with other well-known artists. In 1999, Tech N9ne was included on the track (and accompanying video) "The Anthem" from Sway & King Tech, two radio personalities based in California.
He started his rap career because of a dare from one of his friends in high school. Early in his career, Tech N9ne was a member of a group called "NNUTT HOWZE", which he pays tribute to in many of his lyrics by saying "Six, six, triple eight, forty six, ninety nine, three" (6688846993), which spells out NNUTT HOWZE on the touch pad numbers of a telephone. However, the group disbanded when they were dropped from their label, Perspective Records. Additionally, he saw glimpses of success as a member of the 57th Street Rogue Dog Villians - also a Kansas City-based group - with their single "Let's Get Fucked Up".
Tech N9ne is a member of The Regime, a large collective of MCs including Yukmouth, Dru Down, Gonzoe, Tha Realest and Messy Marv among various others. Fellow Kansas City rappers BG Bulletwound and Grant Rice are also included in the collective's roster. Tech N9ne is one of the original members of The Regime, as he has been with the group since its creation by Yukmouth in 1997.
In September 2008, Tech N9ne officially hit a milestone in his career, recording over a million album sales to date, thanks to the release of his most recent double album, Killer. Despite the accomplishment, the rapper remembers the struggles of his career, up until this point. However, he wasn't surprised. "It just reminded me of all the work we done in the past, up until now. It's something. It's dope," the rapper told BallerStatus.com. "I don't think it's sunken in yet. I've been celebrating for the last two days because that's a hell of an accomplishment. I've been planning success all my life. I'm not even a bit surprised, I'm happy about it. That just means I was right." Sickology 101: The Study of Being Sick was released on April 28, 2009. Sickology is the second Tech N9ne collabos album (the first being Misery Loves Kompany), the album has several guest appearances such as Krayzie Bone, Crooked I, Messy Marv and Chino XL.
On April 7, 2009, it was announced that Tech N9ne would be one of the performers for the Rock The Bells 2009 Festival. In August, Tech N9ne performed at the tenth annual Gathering of the Juggalos after appearing at two prior Gatherings.
His next solo album K.O.D. will be released October 27, 2009. The album will be accompanied by the "K.O.D" tour featuring Krizz Kaliko, Kutt Calhoun, Slaughterhouse, Glasses Malone, and new-comer to Strange Music, Big Scoob.
Videos
---
Related Speakers View all
---
Rich Homie Quan

Rising Atlanta Rapper; Known for his Single "Type of...

J. Cole

Hip-Hop Recording Artist & Record Producer Known for...

Nelly

Rapper, Entrepreneur & Investor

Jay Sean

Singer, Songwriter, Rapper, Beatboxer & Record Producer

Waka Flocka Flame

Rapper; Known for "No Hands"

Far East Movement

Hip Hop & Electronic Music Group

Wale

Rapper & Producer

Shwayze

Rapper

Rahzel

Rapper & Beatboxer; Former Member of The Roots

Plies

Rapper; founder of Big Gates Records.

Drake

Canadian Actor, Rapper & Singer Known for "One Dance...

Ludacris

Grammy Award-Winning Rapper, Actor & Founder of Dist...

Trey Songz

Grammy Award-Nominated Singer, Songwriter, Record Pr...

Busta Rhymes

Rapper, Record Producer & Record Executive

August Alsina

Hip Hop Singer Signed to Def Jam

Killer Mike

Hip-Hop Artist & Activist Focused on Social Inequali...

Chip Tha Ripper

Chip tha Ripper, is an American rapper and actor

Quasimoto (Madlib)

Hip Hop DJ, rapper, multi-instrumentalist, producer;...

Future

Rapper, Singer, Songwriter & Record Producer

Audio Push

Hip Hop Duo, Known for Dance "Jerkin"
More like Tech