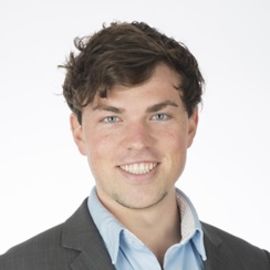 Ted Gonder
Executive Director & Co-Founder of Moneythink
Ted Gonder is a member of the U.S. President's Advisory Council on Financial Capability for Young Americans and the co-founding CEO of Moneythink, the only movement of young people restoring the economic health of the United States through preventative, transformative, and evidence-driven youth financial education. Since 2009, Moneythink has trained over 1000 college leaders to serve as financial mentors and college role models to over 10,000 teenagers across 10 states. In 2014, Ted was named a Bluhm-Helfand Social Innovation Fellow by Chicago Ideas Week. And in 2015, Ted was named to Forbes' 30 Under 30 list as the youngest in Finance.
Prior to Moneythink, Ted served as Entrepreneur-in-Residence at the U.S. Department of Homeland Security, advising the Obama Administration on immigration policy for foreign entrepreneurs. Previously, he worked with the Kauffman Foundation and the Chilean government, research immigrant entrepreneurship and publishing through MIT Press and McKinsey.
Ted got his start in social entrepreneurship working on climate change, and notably being appointed and serving as the student advisor to The Climate Project, an organization founded by Al Gore.
Ted has also played an active role as a community builder, founding the World Economic Forum's Chicago Global Shapers Hub, as well as the University of Chicago Entrepreneurship Society.
His work has been featured in MTV, WSJ, and Crain's; he has spoken at the White House, U.S. Senate, NYSE, TEDx, and at top companies such as PwC, IDEO, Dell, and Allstate.
Besides work, Ted enjoys practicing martial arts, admiring wild animals, and writing on his blog.
Related Speakers View all
---
Sally Blount

Dean of the Kellogg School of Management at Northwes...

Zac Posen

Fashion Designer

Tom Freston

Principal, Firefly3; Former CEO, Viacom Inc.

Cody Adams

Managing Editor of The Floating University.

Jeffrey Israel

Jeffrey Israel has taught religion and political phi...

Pastor Rick Warren

Pastor & Author of "The Purpose-Driven Life"

D. Quinn Mills

Consultant; Professor Emeritus, Harvard Business School

Moby

Musician, DJ, Photographer

Calvin Trillin

Author, Columnist, Humorist & Political Satirist

Ray Kurzweil

Chairman of Kurzweil Technologies; Inventor; Futurist

Robert Hormats

Vice Chairman of Kissinger Associates Inc.

Gary Hamel

Internationally Renowned Expert on Business Strategy...

Jimmy Carter

Former United States President (1977-1981), Author

Todd Buchholz

Former White House Director of Economic Policy & CNB...

Sir Richard Branson

Businessman, Founder of Virgin Group

Dan Ariely

Behavioral Economist; Professor at Duke University; ...

Andrew Schrage

Andrew Schrage, Money Crashers Personal Finance

Dr. Bill Conerly

Economist and Future Forecaster; Expert in Business ...

Fredrik Carlström

CEO, Great Works America

Jeff Frieden

Professor of Government, Harvard University
More like Ted