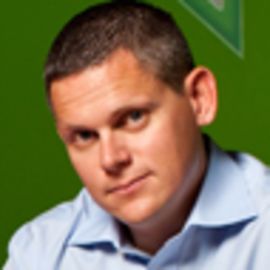 Ted Murphy
Founder & CEO, IZEA
Coming off the heels of the economic meltdown, Ted's company IZEA was growing and he had a decision to make: remain investor-funded or go public. In May 2011 he chose the latter, taking IZEA public on the OTC Bulletin Board. The company's market cap is valued at over $25 million dollars as of March 21, 2012.
The culmination of the company's success is significant, considering its start.
Before digital marketing was mainstream, Ted Murphy founded MindComet, an Orlando-based agency that grew to 60 employees and three offices across the United States. A serial entrepreneur by nature, Ted's passion was product development to support the marketing goals of his clients. In 2004 he introduced IZEA (then-PayPerPost) that connected brands and bloggers to monetize a blogger's reach. The product was met with controversy from the press and industry pundits who only viewed blogs as "unbiased sources" – not potential marketing tools. He was vilified for his vision on TV programs and in International newspapers.
Years later, with his vision now realized and the company public, Ted is just getting started. In late 2011 and early 2012, the company introduced two major new product offerings: Staree, a social media monetization platform for celebrities, and IZEA Media, a display advertising network that after only five months boasts 50 million impressions. This was in addition to opening offices in New York, Los Angeles and Chicago, hiring the company's first-ever Chief Marketing Officer, and further developing "The IZEA Way" - a handbook for team members that puts culture and creativity first within IZEA's growing empire.
As if the IZEA business didn't keep this renegade occupied, he also got married and ran two (for a total of 14) marathons in 2011, and later this year will becomes a dad for the first time! Ted not only created the social media sponsorship space from thin air, he continues to be a visionary who leads the industry through disruption and innovation. Under Ted's helm the IZEA network has grown to 700,000 publishers in 147 countries, and 50,000 advertisers, with over 3 million completed social media sponsorships.
Related Speakers View all
---
Jabez LeBret

Generational Speaker, Author, and Marketing Consultant

Paul Schroader

High Performance Internet Advertising

Alan K'necht

Conference speaker, Lecturer, Author, Columnist & In...

Eric Enge

President Stone Temple Consulting Corporation

Stoney deGeyter

Founder & CEO of Pole Position Marketing

David Vogelpohl

Founder and CEO of Marketing Clique

Rebecca Murtagh

Rebecca Murtagh, Author of Million Dollar Websites: ...

Adam Riemer

Affiliate Explosion

Marc DeBevoise

CEO of CBS Interactive; Former President & COO of CB...

Krista Neher

Marketing Strategist, Bestselling Author, Internatio...

Jay Berkowitz

CEO Ten Golden Rules

Kristine Schachinger

Live SEO Exhibit | UI/UX Uncovered

Paul Kontonis

Chief Media Evangelist, Outrigger Media Chairman, I...

Lou Kerner

Founder, The Social Internet Fund

Tim Ash

Author of Bestselling Book "Landing Page Optimizatio...

Joe Sabia

Head of Development at Conde Nast Entertainment, Dir...

Dan Ariely

Behavioral Economist; Professor at Duke University; ...

Kevin Allocca

Head of Culture & Trends at YouTube

Dan Zarrella

Social Media Scientist HubSpot.com

Tony Wright

CEO/Founder WrightIMC
More like Ted