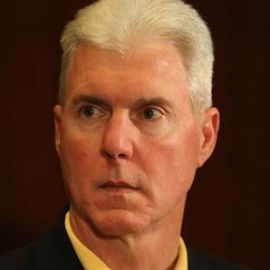 Ted Thompson
Ted Thompson just presided over his ninth draft as Packer GM.
With the NFL draft now complete several things have become clear: the Packers' coaching staff feels a lot better about the middle of its defense than the pundits do, and that they are finally planning to pay more than just lip service to the team's running game.
After being exposed on defense in the playoffs the expectation going into the draft was that defense would rule the day. On day one the pick of defensive end Datone Jones seemed to bear that out. Jones,a tough, versatile lineman who can both set the edge against the run and also rush the quarterback should be a nice upgrade to a defensive line that was lacking last season. However that was where the defensive focus went out the window as their next four picks were all spent on offense. Green Bay addressed its need at running back on day two by getting Alabama running back Eddie Lacy, a guy many pundits projected the Packers to draft in the first round. At that point in the draft Lacy was an excellent value that general manager Ted Thompson could not pass up. The Packers then traded down twice to get out of the third round and ended the day having made just two picks, one on each side of the ball.
The Packers had two fourth-round picks and spent both on offensive lineman, tackle David Bakhtiari from Colorado and guard J.C. Tretter from Cornell. That helped add depth to a position they were perilously thin at. Later, the Packers surprised observers by trading back into the fourth round to take running back Johnathan Franklin from UCLA. Having picked up Lacy in the second round it seemed unlikely that the Packers would have traded up for another running back, but Franklin was considered by some to be the second best back in the draft. It is a classic Ted Thompson move to draft a guy who had a lot of value at the point he was picked, even if it wasn't necessarily a need-pick. With two highly touted running backs now on the roster it's hard to believe head coach Mike McCarthy will continue to avoid running the ball as he has in the past. That means the Packers are likely to be much more balanced on offense going forward. Round five saw the Packers finally return to the defensive side of the ball, adding cornerback Micah Hyde out of Iowa. Corner was not a need for the Packers, however you can never have too many corners. I'm sure it was also hard to pass up a player who was second team All-Big Ten last season late in the fifth round. The Packers added another player to the defensive line with their fifth round compensatory pick by snagging Josh Boyd from Mississippi State. Then with their only sixth-round pick the Packers added to their outside linebacker depth, grabbing Nate Palmer from Illinois State. Green Bay then closed its draft with three picks in the seventh round. The first two were spent on athletic, but raw wide receivers in Charles Johnson from Grand Valley State and Kevin Dorsey from Maryland. The Packers then closed their draft by selecting outside linebacker Sam Barrington from South Florida. The Packers started the draft with eight picks and ended it with 11 players taken. In many ways you could call it the Noah's Ark of drafts as they selected two defensive linemen, two offensive linemen, two running backs, two wide receivers, two outside linebackers and then the one outlier at cornerback. While they addressed their needs at running back and along both lines they still lack playmakers in the middle of the defense. In a draft that was so deep at safety the Packers had four opportunities in each of the middle rounds to take one and they passed each time. D.J. Swearinger was taken two picks after their original draft position in the second round. Duron Harmon was taken three picks after their original draft position in the third, Shamarko Thomas two picks after the first of the fourth round picks they acquired, and Josh Evans was taken two picks after their fifth-round compensatory pick. Not only was safety neglected, but inside linebacker as well. So for the middle of the defense to improve three things must occur: defensive line play must improve, linebackers Nick Perry and Desmond Bishop must both stay healthy and either M.D. Jennings or Jerron McMillian must step up and produce at safety. While one or two of those may happen it's hard to believe all three will. Which will leave the Packers' defense vulnerable again this season. That means winning championship No. 14 is unlikely.
Related Speakers View all
---
Chris Doering

Former NFL WR; ESPN; Westwood One

Antonio Pierce

Super Bowl Champion, New York Giants, ESPN Football ...

Ed Sabol

NFL Films grew out of a hobby for Ed Sabol.

Bob Harlan

Bob Harlan, the Green Bay Packers' chairman emeritus...

Frank Winters

Favre is scheduled to induct longtime teammate and f...

Zeke Bratkowski

Bratkowski began his playing career at Schlarman Hig...

Joe Philbin

Joe Philbin was named the tenth head coach in Miami ...

Mark Tauscher

Mark Tauscher is a former American football offensiv...

Ryan Grant

Ryan Brett Grant is an American football running bac...

Bryan Bulaga

AP Bryan Bulaga responds to questions during a news ...

Brett Swain

Ended the season with 13 catches covering 104 yards.

Chad Clifton

Football player NFL, offensive tackle for the Packer...

Jim Finks

At a Bears game in 1973, George S. Halas, Jr., son o...

Shaun Suisham

Since 2005 Wallaceburg Ontario's Shaun Suisham has m...

Larry Foote

He made his professional debut in 2002 while playing...

Hunter Goodwin

Former Tight End, Minnesota Vikings and Miami Dolphins

Aaron Taylor-Johnson

English actor, starring roles in Nowhere Boy, in whi...

Ryan Durand

Former Guard for the Kansas City Chiefs

Bill Bates

Former Dallas Cowboy

Mike Sherman

Michael Francis Sherman (born December 19, 1954 in N...
More like Ted