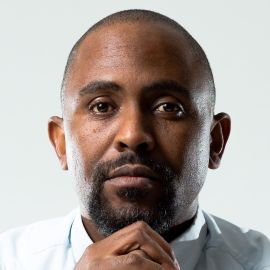 Tendayi Viki
Innovation Consultant; Associate Partner at Strategyzer; Author of "The Corporate Startup" & "The Lean Product Lifecycle"
Tendayi Viki is an author and innovation consultant. He holds a PhD in Psychology and an MBA. As Associate Partner at Strategyzer, he helps large organizations innovate for the future while managing their core business.
He has given keynotes, run workshops and worked as a consultant for several large organizations including Rabobank, American Express, Standard Bank, Unilever, Airbus, Pearson, Lufthansa-Airplus, The British Museum, Copenhagen Fintech and The Royal Academy of Engineers.
Viki co-designed Pearson's Product Lifecycle, an innovation framework that won the Best Innovation Program 2015 at the Corporate Entrepreneur Awards in New York. He has been shortlisted for the Thinkers50 Innovation Award and was named on the Thinkers50 2018 Radar List for emerging management thinkers to watch.
In addition, Viki has written two books based on research and consulting experience, "The Corporate Startup" and "The Lean Product Lifecycle." "The Corporate Startup" was awarded the 2018 CMI Management Book Of The Year In Innovation and Entrepreneurship. He is also a regular contributing writer for Forbes.
Viki spent over 12 years in academia, during which he taught at the University of Kent where he is now Honorary Senior Lecturer. He has also been a Research Fellow at Stanford University and a Research Assistant at Harvard University.
Videos
---
Speech Topics
---
Innovation Is For Everyone
In this keynote, Tendayi discusses how companies can make sure that they have a democratic process for managing innovation. How developing an innovation ecosystem with metered funding and the right questions at the right time helps open the innovation process to more people within the company.
Beyond Experiments: Aligning Innovation With Corporate Strategy
In this keynote, Tendayi talks about the importance of developing an innovation strategy to avoid random innovation projects in companies. Developing an innovation thesis to guide strategic decision making. How to align innovation projects with corporate strategy. How strategy can help with transitioning successful innovation projects into the core business.
News
---
Is Your Company Ready For Innovation?
... we start planting the flowers of great new ideas, we need to ensure that the corporate garden is fertile with the right nutrients to nurture innovation. Tendayi Viki.
Related Speakers View all
---
R "Ray" Wang

Founder, Chairman & Principal Analyst at Constellati...

Saj-Nicole Joni

Business Strategist & Advisor

Hemant Taneja

Managing Director at General Catalyst & Author of "U...

Monica Worline

Founder & CEO of EnlivenWork

Bradley R Staats

Professor at the UNC Kenan-Flagler Business School &...

Ryan Brueckner

Senior Manager in the Strategy & Operations at Deloi...

Henri Arslanian

FinTech & Crypto Leader for Asia at PwC

Dr. Joe Dispenza

Author, International Lecturer, Workplace Solutions ...

Dan Olsen

Product Management & Lean Startup Consultant Helping...

Judy Davis

Motivational Speaker and Author known as the Directi...

Kayla Roof

Military Spouse Entrepreneur Advisor

Johann Berlin

CEO and Chief Energy Officer of TLEX Institute

Liene Stevens

Author, speaker, and behavioral psychology expert wh...

Taddy Hall

SVP, Innovation Practice at The Nielsen Company, Co-...

Dan Pontefract

Chief Envisioner at TELUS & Author of "The Purpose E...

Debbie Millman

Writer, Educator, Artist, Brand Consultant & Host of...

Kirsty Spraggon

‎Talk show host. Speaker. Life absorber. People love...

Christopher M. Schroeder

Internet/Media CEO; Venture Investor; Writer on Star...

Nancy T. Nguyen

Hit-and-Run Survivor; Crowned 2011 Miss Corporate Am...

Nicole Yeary

Founder & CEO of Ms.Tech
More like Tendayi