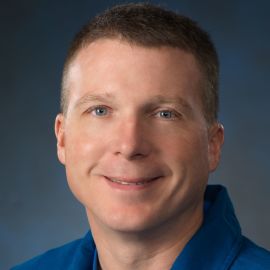 Terry Virts
Former NASA Astronaut & Colonel in the United States Air Force; Photographer for National Geographic Book "View From Above"
Colonel Terry Virts (ret.) is a U.S. Air Force test / fighter pilot and NASA veteran of two spaceflights – a two-week mission onboard the Space Shuttle Endeavour in 2010 and a 200-day flight to the Space Station in 2014-2015. He is a celebrated thought leader, speaker and author.
His seven months in space included piloting the Space Shuttle, commanding the International Space Station, three spacewalks, and performing scientific experiments, all while working closely with multiple international partners. Virts flew with and led Russian Space Agency cosmonauts during some of the most tense relations with Russia since the Cold War.
While in space he took more than 319,000 photos – the most of any space mission. These images are an integral component of the IMAX film A Beautiful Planet, which Virts helped film and appears in.
Virts' National Geographic book, View From Above, combines some of his best photography with stories about spaceflight and perspectives about life on earth and our place in the cosmos.
An in-demand speaker at events across the globe, Virts' topics include stewarding our environment, better understanding life on earth through the lens of global wealth, risk and crisis management, the importance of innovation in design, strategy and vision, and intercultural leadership.
Related Speakers View all
---
Story Musgrave, M.D.

Retired NASA Astronaut; Physician & Professor at Art...

Leroy Chiao

Former Astronaut & International Space Station Comma...

Alex Salkever

Futurist, Author of "The Driver in the Driverless Ca...

Dick Rutan

Voyager Pilot, Adventurer and Aviation Pioneer

Ron Garan

Retired NASA Astronaut, Fighter Pilot & Author of "T...

Thomas D. Jones, PhD

Former NASA Astronaut & Planetary Scientist; Author

Simon Sinek

World-Renowned Leadership Expert & Best-Selling Author

Mary Ellen Weber

Former NASA Astronaut & Legislative Affairs Liaison ...

John Herrington

Former NASA Astronaut, First Native American in Spac...

Sharon Calahan

Director of Photography of "The Good Dinosaur," Pixa...

Peter van Manen

Electronic systems expert

Jacqueline Jensen

Founder/COO of TicketCake.com, a natural born doer, ...

Matt Barrie

CEO of Freelancer.com; Matt Barrie is an award winni...

Louis J. D'Ambrosio

Current Chairman of Sensus; Former CEO of Sears Hold...

Buzz Aldrin

Former Fighter Pilot & 2nd Man to Walk on the Moon; ...

Linda Bernardi

AI Strategist, Technologist, Entrepreneur & Innovator

Derek Peterson

CTO of Boingo Wireless

Robert Swan

CEO of Intel

Sascha Scheider

Co-Founder of Plotaverse

David Nordfors

CEO & Co-founder of i4j Innovation for Jobs, Author ...
More like Terry