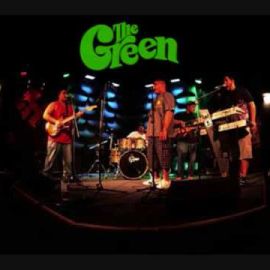 The Green formed on O'ahu, Hawai'i, in 2009. The group began as a vehicle for six different members of Hawai'i's tight-knit music scene to record a few songs and have a bit of fun along the way. Their self-titled debut album, released in 2010, earned both critical and commercial acclaim, and was awarded iTunes Best Reggae Album of the Year.
Afterwards, the band jumped on a plane to the mainland and started a heavy touring cycle. On the strength of their debut album, The Green struck a record deal with ground-breaking independent reggae label Easy Star Records to record their sophomore album, Ways & Means. Ways & Means hit No. 1 on the iTunes and Billboard Reggae charts and the band embarked on more intense touring; supporting acts like Rebelution, Iration, SOJA and Damian Marley. They also played at acclaimed festivals including Vans Warped Tour, Wakarusa, Sierra Nevada World Music Festival and California Roots Festival.
Despite all the time spent away from home, Hawai'i never left the band's day-to-day life on the road. In almost every state, the band met Hawaiian ex-pats, driven away from their home state for reasons both economic and social. The Green's concerts became a place where Hawaiian natives could gather and for one night, share a bit of Aloha spirit from the Pacific islands they call home.
In early 2013, The Green retreated to Hurley Studios in Costa Mesa, CA, to record their third album with Danny Kalb (Ben Harper, Beck, Jack Johnson), the band's first outside producer/engineer, at the helm. In addition, the group brought in Joe Tomino, drummer from Dub Trio (who also double as Matisyahu's backing band), to handle the drums for the sessions.
Videos
---