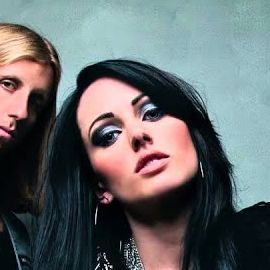 The Letter Black
Christian Rock Band Known for Their Songs "Hanging On By A Thread" & "Fire With Fire"
The Letter Black, formerly known as Breaking the Silence, is a Christian rock band that was formed in 2006 in Uniontown, Pennsylvania. The band consists of lead vocalist Sarah Anthony; her husband, lead guitarist and vocalist Mark Anthony; and drummer Daniel Hegerle.
The Letter Black started out as a praise team at their local church with Sarah and her husband Mark as a duo on vocals under the name Breaking the Silence. Later when they were signed to Tooth & Nail Records they changed the name of the band to The Letter Black. The band often does 150 shows or more a year and has shared the stage with bands such as Skillet, Decyfer Down, Red, and Hawk Nelson.
In 2017, The Letter Black released their fourth studio album, Pain, which featured the singles "Last Day That I Cared" and "Rock's Not Dead." Pain peaked at #6 on the U.S. Christian Albums chart.