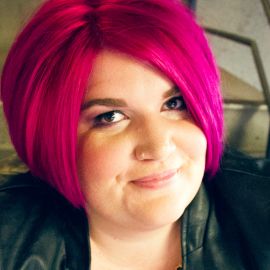 The Stacey Harris is a powerhouse online entrepreneur helping her clients reach rock star status with communities full of raving fans who follow them anywhere. She has a passion for building and being active in communities and teaching folks to use networking to build relationships that grow businesses.
Her passion for rock stars goes back to her roots, she graduated with a degree in audio engineering ready to take the music scene by storm. She quickly started working with an up and coming record label finding bands to sign and feature on their web radio station. Now returning to her web radio roots Stacey is the host of her own show Hit the Mic with The Stacey Harris.
Speech Topics
---
Your Website isn't a 'Field of Dreams'
This is an honest and fun look at the idea that if we build it, they will come. Well they aren't. This session is breaking down how to drive visitors to your site. We will talk about sharing your content in a way that makes people actually click through, and also we'll talk about getting them to do what you want once they show up.
The Cure for the Lonely Entrepreneur
In this presentation we talk about the power of networking, not just from a business perspective but a WHOLE life perspective. We're tackling the how, where, and why of networking. We talk about online networking as well as offline networking and how to bridge the gap between the two. Attendees leave the presentation ready to connect with other attendees and equipped with the tools to make those connections both fulfilling and profitable.
Social Media: More Business, Less Time Suck
In my most popular presentation we talk taking control of social media, so you don't feel like a slave trying to keep up and feed the beast. How to avoid the time suck of Twitter and Facebook, while still driving business results like engagement and sales. The keys to scheduling without losing the personal touch, so you don't look like a robot. Attendees leave with a plan that they can follow to start engaging with social media without the overwhelm, and with business goals at the forefront.