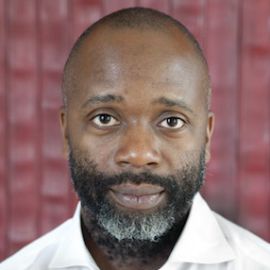 Theaster Gates
Director of Arts and Public Life at the University of Chicago; Founder & President of Rebuild Foundation
Theaster Gates is founder and president of the Rebuild Foundation and director of arts program development at the University of Chicago. He is an artist, musician, and "cultural planner." In his performances, installations, and urban interventions, Gates transforms spaces, institutions, traditions, and perceptions. Gates's training as an urban planner and sculptor, and his subsequent time spent in Japan studying clay, has given him keen awareness of the poetics of production and systems of organizing. With this experience, Gates has assembled gospel choirs, formed temporary unions, and used systems of mass production as a way of underscoring the need that industry has for the body. When Theaster is not making art for museums, he is committed to the restoration of poor black neighborhoods, converting abandoned buildings into cultural spaces. Gates was a Loeb fellow at Harvard Graduate School of Design and has received awards from the Joyce Foundation and the Graham Foundation.
In 2019, fashion label Prada announced Theaster Gates, alongside Ava DuVernay, will be co-chair of the Prada Diversity and Inclusion Advisory Council.
Related Speakers View all
---
Wes Moore

CEO of Robin Hood Foundation, Best-Selling Author & ...

Tim O'Reilly

Founder and CEO, O'Reilly Media

Daymond John

"Shark Tank" Investor; Founder & CEO of FUBU; Presid...

Malcolm London

Young Poet, Educator & Activist; Known for his TED T...

Eric X. Li

Founder & Managing Director, Chengwei Capital; Exper...

Reid Hoffman

Co-Founder & Former Executive Chairman of LinkedIn; ...

Billy Parish

Renowned Social Entrepreneur & Youth Organizer

Eric Schmidt

Former Executive Chairman at Alphabet Inc. & Former ...

Chrystia Freeland

Minister of Foreign Affairs of Canada

Richard Florida

Leading Urbanist, Economist & Author of "The Rise of...

Marvin Odum

President, Shell Oil Company

Myung Sun Choi

Co-Founder, CompactCath; Graduate Student, Stanford ...

David Rothkopf

Former U.S. Under Secretary of Commerce and Former C...

Baratunde Thurston

Futurist Comedian, Writer & Cultural Critic

Kai Ryssdal

Host & Senior Editor of American Public Media's "Mar...

Karl Wendt

Doctoral Student, Harvard University

Darren Walker

President of the Ford Foundation; Chair of the US Al...

Scott Stossel

Editor of The Atlantic; NY Times Best-Selling Author...

Charles Limb

Associate Professor of Otolaryngology-Head and Neck ...

Brooke Williamson

Co-Executive Chef and Co-Owner, Hudson House and The...
More like Theaster