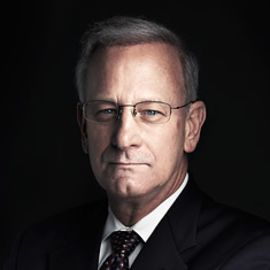 Thomas Hoenig
Vice Chairman of the Federal Deposit Insurance Corporation (FDIC) (2012-2018) ; President of the Federal Reserve Bank of Kansas City; Member of the FOMC
With over 40 years of experience in economics, central banking, commercial bank supervision and executive leadership, Thomas Hoenig has become one of the most influential and reliable thought leaders on the US economy and financial system.
Mr. Hoenig began his career in 1973 at the Federal Reserve Bank of Kansas City as an economist where he held a number of positions in research, supervision and executive leadership including president and chief executive officer from 1991 to 2011. Mr. Hoenig was then appointed to serve as Vice Chairman of the Federal Deposit Insurance Corporation (FDIC) between 2012 and 2018, where he shared oversight responsibility for FDIC insurance and bank resolution operations.
Throughout his career he has identified problems and offered solutions to some of the biggest challenges facing the US economy and financial system. He introduced specific proposals to reduce industry regulatory burden, especially as it affected regional and community banks. During his tenure he witnessed various economic and banking panics, and worked with hundreds of banks that experienced severe asset quality and liquidity pressure. In recognition for his efforts, he received the Independent Bankers of America's Main Street Champion award in 2011.
Thomas Hoenig's world renowned expertise influences audiences interested in insurance pricing, bank resolution and financial stability. His significant leadership, keen perception of economic philosophies and understanding of the financial industry, and knowledge of the workings of the Federal Open Market Committee have earned him recognition as one of the most influential Vice Chairmen in FDIC history.
Videos
---
Related Speakers View all
---
Ben Stein

Political Economist, Commentator, Author & Actor

Martin Regalia

SVP for Economic and Tax Policy; Chief Economist at ...

Barney Frank

U.S. Congressman (1981-2012); Chairman, House Financ...

Geoff Colvin

Editor & Columnist at Fortune Magazine; Author of "H...

Sallie Krawcheck

Founder & CEO of Ellevest; Author of "Own It: The Po...

Alan Blinder

Economic Commentator at CNBC, Former Vice Chairman a...

Joseph Stiglitz

American Economist, Professor at Columbia Universit...

Susan Rice

Director of the White House Domestic Policy Council ...

Peter Guber

Executive, Entrepreneur & #1 NYT Bestselling Author,...

Dambisa Moyo

Global Economist, Author & Investor in the Future

Jeremy Rifkin

Leading Global Technologist, Futurist, Authority on ...

Todd Buchholz

Former White House Director of Economic Policy & CNB...

Norman Champ

Lecturer at Harvard Law School, Former SEC Director ...

Chris Christie

Political Commentator on ABC News; Former Governor o...

Mitch Lowe

Co-founding Executive of Netflix & President of RedBox

Brad Jakeman

Former President of PepsiCo Global Beverage Group

Valerie B. Jarrett

Civic Leader & New York Times Best Selling Author; F...

Carly Fiorina

Businesswoman, First Woman to Lead a Fortune Top 20 ...

J.D. Foster, Ph.D.

Norman B. Ture Senior Fellow in the Economics of Fis...

Preet Bharara

Former U.S. Attorney for the Southern District of Ne...
More like Thomas