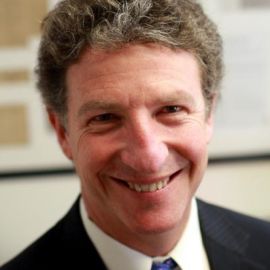 Thomas Perls
Geriatrician & Researcher in Human Exceptional Longevity at Boston University; Principal Investigator of the National Institute on Aging
Dr. Thomas Perls is a geriatrician and researcher in the study of aging at Boston University School of Medicine. His expertise in epidemiology, genetics of aging and exceptional longevity makes him an international leader in the field of human exceptional longevity. As an associate professor in medicine he cares for older patients with complex medical problems and challenging affronts to their independence, while also directing the National Institute on Aging-funded New England Centenarian Study (the NECS). The NECS is the largest study of people living to 100 years and beyond in the world. He also directs the Long Life Family Study at BU. These studies are leading the way in finding out how and why centenarians and their kids, who are in their seventies and eighties, live the vast majority of their lives disability-free and in the case of supercentenarians, people who live to 110 and beyond with age-related diseases not occurring until the very end of life.
Findings from his studies are presented in his book, Living to 100: Lessons in Maximizing Your Potential at Any Age. Springing from this work is the Living to 100 life expectancy calculator that calculates your life expectancy based upon a ten-minute questionnaire. Besides your life expectancy, you find out what you are doing right and wrong, how many years you are taking off your life, and how many years you can add with key and sometimes simple changes in your habits. Over 5000 people take the calculator a day, including hundreds of middle schools, high schools, and college classes who use it to teach kids about surviving their teens and the longterm benefits of healthy and smart decisions.
Dr. Perls is also an expert in anti-aging quackery and a consultant to the Drug Enforcement Agency and the US Department of Justice in their investigations and prosecutions of anti-aging clinics. He is a vocal critic of this pernicious, greedy, and quack-ridden industry.
With over 120 academic publications on extreme longevity and the avoidance of age-related diseases, Dr. Perls and the centenarian subjects and their children have garnered a great deal of media attention including appearances on 60 Minutes, CBS Sunday Morning, The Today Show, Good Morning America, Oprah, the nightly news programs, and NPR. He has addressed audiences nationwide including Baby Boomers and active agers, as well as those in the pension, insurance, medical, and health and legal fields.
Dr. Perls also directs the recruitment and enrollment of centenarian subjects for the Archon Genomics X Prize, where he played a pivotal role in making centenarians the subjects of this competition, which will take place in January 2013, to decipher with near 100% accuracy at unprecedented speed and affordability the entire six billion nucleotides-long genetic codes of 100 spectacular centenarians.
Centenarians and supercentenarians represent a new paradigm of aging: the older you get, the healthier you've been! Though genetics plays an important role in getting to 100 and beyond, the centenarian study and its collaborators show us that most people should be able to live to nearly 90 in exceptional health. These 25 to 30 years beyond age 60 of good health could mean a gold mine of new possibilities and vast potential for today's Baby Boomers and future generations.
Videos
---
Speech Topics
---
What Can We Learn from Our Genes?
Living to 100 & the Fountain of Aging Well
Anti-Aging Quackery: If the Toxic Hormones Don't Kill You, Run Away as Fast as You Can!
The Do's & Don'ts of Healthy Aging: From Strength Training for Your Brain to the Toxic Hormone Soups of the Anti-Aging Industry
The Future of Aging: What Is Possible If We Act Now & What Will Happen If We Don't Act
Related Speakers View all
---
Daniel Altman

Sports Analytics & Strategy Expert

Scott Turow

Attorney & Best-Selling Author

Dr. Gregory Stock

Healthcare Futurist & Biotech Pioneer

Jeremy Rifkin

Leading Global Technologist, Futurist, Authority on ...

Maddy Dychtwald

Co-Founder & Senior VP of Age Wave, Author & Changin...

Calvin Trillin

Author, Columnist, Humorist & Political Satirist

Neil Howe

President of Saeculum Research & LifeCourse Associat...

John Zogby

Trendspotter & Leading Pollster

Raj Patel

Award-Winning Writer, Activist & Academic

Iris Krasnow

Best-Selling Author & Relationship Expert

Jesse Dylan

Filmmaker & CEO, Freeform / Founder, Lybba.org

Ken Dychtwald

Founder & CEO of Age Wave; Gerontologist & Expert on...

Robert Ballard

Renowned Ocean Explorer & Scientist

Archbishop Desmond Tutu

Nobel Laureate & Human Rights Activist

Rachel Simmons

Bullying and Leadership Expert

Asra Nomani

Journalist & Author, Women's Rights Activist

Eli Newberger

Pediatrician, Musician, Teacher & Author of "The Men...

Ray Kurzweil

Chairman of Kurzweil Technologies, Inventor & Futuri...

Parag Khanna

Leading Geo-Strategist & Author

Aubrey de Grey

Biomedical Gerontologist; Chief Science Officer of S...
More like Thomas